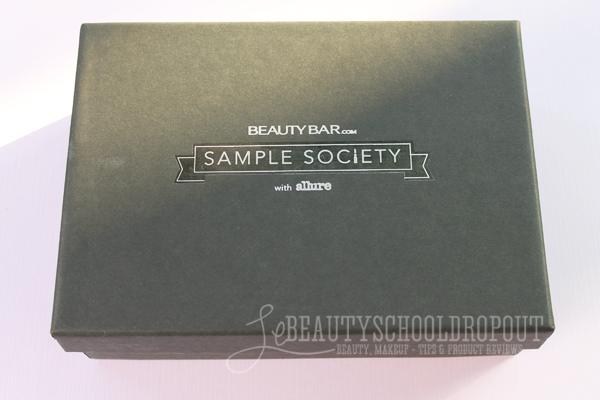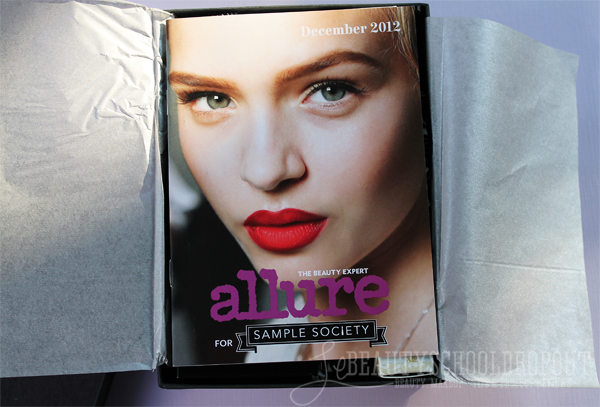 Hello everyone! I decided to switch things up a bit and order myself a Sample Society box from Allure. It costs $15 a month and also comes with a free subscription to Allure magazine (which I haven't received yet.) Inside the box are five beauty samples and also a mini beauty magazine. There is also a $15 gift code towards any $50 order on their corresponding beauty website. So far, this box is
AWESOME
. Onto the inside...
1.
Lollia Wish Petite Treat Shea Buttter Handcreme ($7)
.
Ooooooh, I love shea butter. Shea butter is so good for dry skin and this handcreme leaves my skin super super smooth. The scent is bergamot and jasmine and smells nice and floraly. I love this hand cream.
2.
Hanskin Premium Perfect Super Magic BB Cream SPF30 PA++ ($33)
This bb cream looks really natural and has medium coverage. It's thickness is comparable to Missha bb cream. It's more suited for dry skin and for skin tones around NC25 or so. I did like this bb cream and it blends pretty easily with a sponge. It didn't irritate my skin either. However, the cream does oxidize a bit and turns slightly darker. To me, the Skin 79 diamond bb cream is still the winner because it provides a flawless matte finish and I feel like it really locks my skin in. This one I felt like did an ok job of covering any uneven skin textures. However, I am being really picky here.
3.
Murad Age Reform Time Release Retinol Concentrate ($65)
Ok, I can't really comment this product because I don't have deep wrinkles yet. However, I will be using it sporadically at night on my "future wrinkles". :) Retinol is pretty much a concentrated dose of vitamin A which is really good for curing or preventing wrinkles.
4.
Philosophy Living Grace Shampoo, Bath & Shower Gel ($22)
This product smells really good. It has a richer scent and almost reminds me of cologne a tiny bit. It lathers up really well as a shower gel and also works well as as a shampoo. My hair felt clean and soft after using this.
5.
Delaney Rejuvenating Eye Creme ($135)
This eye cream retails for $135?! Wow, it's no wonder the eye cream almost looks like liquid gold a bit. This grape-infused formula is used to tighten and brighten the delicate skin around the eyes. When I used this product my skin got a bit irritated but I really do not think it is the product itself. I think I am just using too many products. I stopped using eye creams in general for the past couple of days and all of my problems went away. I am currently going to continue to use my current eye cream to prevent any irritation, then I will come back and use this and give it a real review in the future. Sorry I only have two eye sockets and right now they're mad at me. :(
I have to say this box is super. I love how it focuses on beauty products only. I really have nothing but positive things to say about this box. It's pretty much Glossybox's equally cool cousin in beauty products and I will happily continue my subscription. Have a wonderful weekend everyone!