I have completely forgotten about my November Ipsy bag and I completely apologize for the extreme lateness of it all. November's bag was fun and festive. Can you believe that Glam Glow retails at $279 for just 8oz?! Yea... me neither. Let's just get into what I thought about November's bag shall we?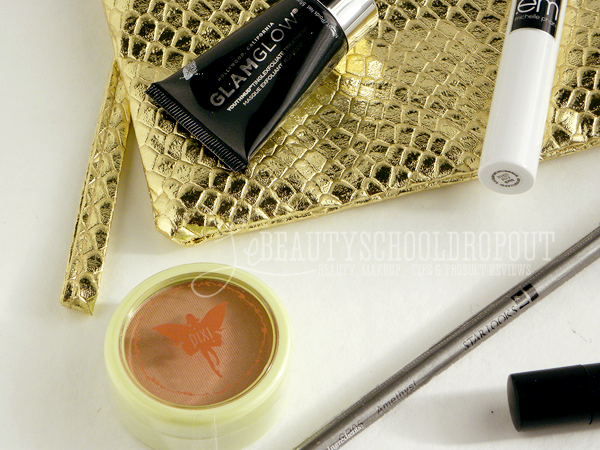 Em Cosmetics Lengthening Mascara
retail $20 // I had high hopes for this product considering it's from Michelle Phan... sadly, it fell short for me. I ended up applying
Benefit They're Real Mascara
over which really helped.
Be a Bombshell Lip Crayon in Hot Damn
retail $14 // It's a really pretty color but it's more on the orange side. I will be gifting this to my friend whose a MUA.
Nailtini Nail Polish in Caviar Cocktail
retail $13 // I love receiving nail polishes in my subscriptions, but I get so disappointed when they are colors I never use. This again will also be gifted to a friend.
Pixi Beauty Bronzer in Summertime
retail $18 // I am so in love with my Benefit Hoola, I actually have yet to try this.
Starlooks Gem Eye Pencil in Amethyst
retail $14 // Way too shimmery for me, but I had gifted this to a friend who absolutely loves it! Thanks Meaghan <3
Youthmud by Glam Glow
retail $279 // I LOVED this sample! I love face masks, mud masks, sheet masks... you name it! It was a little messy when applying, but my skin felt great afterwards!