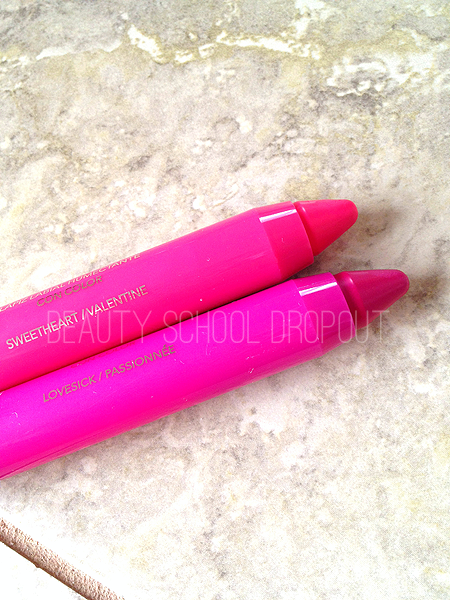 After seeing so many rave reviews about Revlon Just Bitten Kissable balm stain, I felt the need to run out to my nearest Walgreens, which I was a little disappointed since there were just a few left and not the exact colors I wanted. I did pick up Smitten and Cherish which I made a post about in my personal blog at
GHOTH
.
Last week I went back to Walgreens mainly just to buy a birthday card and saw that
more
colors were in stock and I had a really hard time picking just two (since it they had their bogo sale), but I went with Lovesick and Sweetheart which are bright and very pigmented compared to Cherish and I am seriously
in looooooooove
with their balm stains! Cherish is pretty light against my natural lip color, but it does give my lips this pretty natural pink color which Jenny says looks really good! Smitten is a little darker and more red wine color, so I would probably wear that when going out for a nice dinner with friends or hubby. Lovesick is a little more magenta/fuschia dark berry toned and Sweetheart looks a little on the Barbie pink side.
Revlon Balm Stain at $8.99 a piece is pretty awesome compared to
Tarte's Lip Surgence
at $24! Even if your local drugstore does not have the bogo sale, they are still definitely worth the try!
XOXO Yen