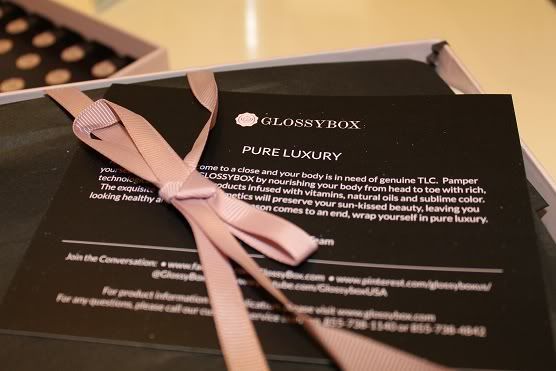 It's here! It's here!! I was so excited to find a pink and brown polka dotted box in my mailbox today. I have to say that the
August Glossybox
products did not disappoint. Inside the box there were five items.
1.
Biolage ExquisitOil Replenishing Treatment
Retail is $22
2.
Ole Henrikson Truth Serum Collagen Booster
Retail is $14
3.
Illamasqua Nail Varnish
Retail is $14
4.
Ellis Faas Lipstick
Retail is $35
5.
Touch In Sol Feel Like Honey Moon Skin Base
Retail is $20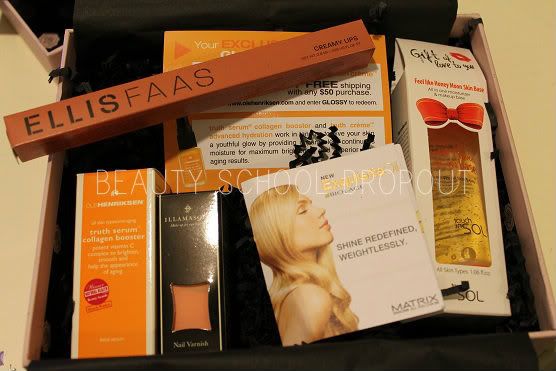 I have to say that I was happy with this box. I absolutely love the Ole Henrikson Truth Serum Collagen Booster. This product makes my dry skin look more
smooth
, bright, and healthy. I also loved my Illamasqua nail varnish which came in a bright
pretty
peach color which would be flattering in the summer and in the winter. The Biolage Exquisite Oil I am still testing out and so far it just makes me hair a little more oily and I don't see a huge difference. The Ellis Faas lipstick was disappointing, not because of the packaging which is sleek and beautiful but because of the Hershey brown color is came in. I mean if I were trying to sport a gothic color then maybe it could work, but for daily wear this just isn't flattering at all (Update: After trying on this color and applying it lightly, I have to say I really like it. It looks good on a bare face and really stands out). I've yet to try the Touch In Sol honey moon base as I'm waiting for a good makeup day to try it on (I will be back to let you guys know how it worked out).
Overall, for the cost of the box which was $23, this was a
GREAT
deal and I'm very pleasantly surprised. Thank you Glossybox!
Xoxo,
Jenny