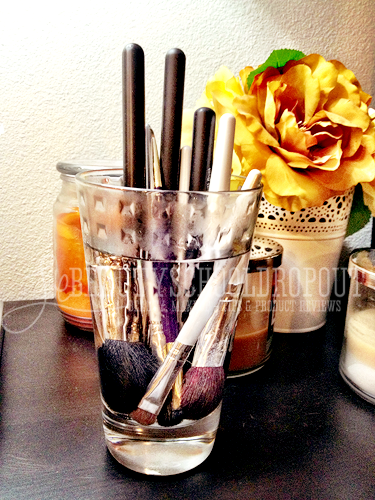 Have you cleaned your makeup brushes recently? Whether you invest in expensive brushes or cheap brushes, it's important to maintain and prolong their life. Imagine all the bacteria and oils that live in the bristles which you sweep on your face on a daily basis. Not ideal right? I try to remember to clean my brushes at least once a month or every other since I don't wear makeup daily, but if you do, I recommend at least once a week.
Now, you can obviously buy the brush cleaner solution, but I rather save the money and use products I already have on hand at home. I saw on
Pinterest
for a tutorial to clean your brushes using
hot water/vinegar soak
which I tried last night. I think this method is best for those who has major buildup because it didn't work for me. I let it soak the whole 20 minutes with barely any residue at the bottom of my cup.
I have found using dish soap and evoo is the cheapest and most effective way to deep clean my brushes. I originally found the tutorial from
Jen
and it is definitely my go to. You pour a bit of evoo (or olive oil) and a couple tablespoons of liquid dish soap, swirl your brushes in and brush it into your palm to get out the residue. Rinse throughly and dry overnight.
Hope that was helpful! If you want to read up on more ways to clean and protect your brushes, check out
Makeup Geek
.