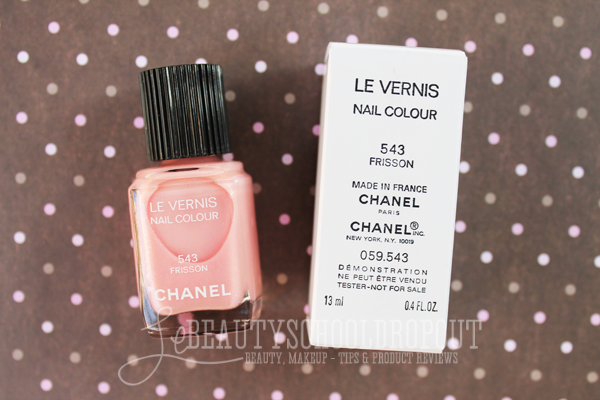 Hello everyone,
Today I want to share with you my first official Chanel nail polish purchase! *whoop whoop* I purchased Frisson ($26) online which is a light pink color with hints of peach and gold sparkle. It's a really pretty color and flattering for my light/medium warm skin tone. I don't regret my purchase at all. At first I thought this nail polish would be too thin and streaky but after three easy coats I have to say that it's awesome. It turned out nice and opaque and it
shimmers
in the sunlight. The finished look is girly and classy. The formula is creamy, quite fast drying, and quite easy to use. I topped it off with Essie Good To Go top coat and it hasn't dented so far yet. (I'll be back in a week to update on how it's doing.)
I have a feeling that this won't be my last Chanel nail polish and I can't wait to try out more. <3 Do you have any favorite nail polishes? If so, which ones?
Also, if you haven't entered our giveaway yet, please do so via rafflecopter below! Thank you!! :)