Hello lovely readers!
Today's post is on Butter London's knackered nail polish. Knackered is a shimmery purple/green nail polish that changes color depending on the lighting. It looks most similar to a twinkling oyster shade with flecks of micro glitter particles. I picked it up because it reminded me of the northern lights, which I've always wanted to see sometime in my life. It's definitely a unique shade I'm still deciding if I like it or not. I can't decide if it looks like galaxy nails or more like Aliens versus Predators. Depending on the lighting it can go from a light grey with color accents to a darker more metallic scarab beetle look.
The formula is easy to handle and dries at a normal pace. I used three coats and Essie's Good To Go top coat. This color is definitely not for everyday wear or for the faint of heart. However, it's definitely interesting and fun to look at. This item retails at $15 but you can get it
here on Amazon
for $11.35. Enjoy!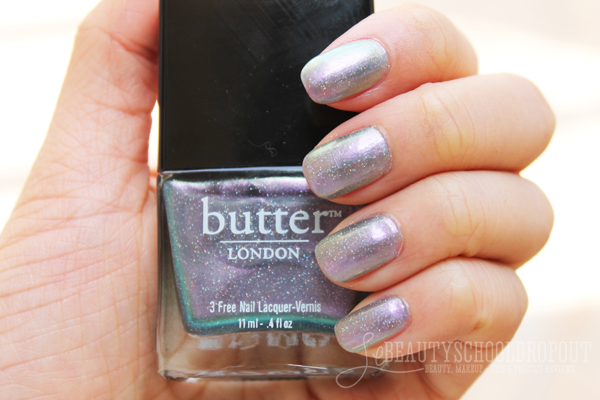 P.S. If you haven't entered our beauty giveaway yet, please do so below! I hope everyone has a safe and fun St. Patricks Day! :)