April Glossybox! I was pretty ecstatic about this box after seeing an unboxing on Youtube. Was it just me, but did anyone else not receive a tracking number? That was pretty annoying. So, let's get out with the products for April.
Tigi Blush in Glow
retail $22 // Must be blush season because this is the second one I've received for the month of April. The packaging is pretty cheap, but the color is absolutely gorgeous. I think this is one of those products where it'll be universally liked and looks greats on everyone. When I first swatched it, it was pretty pigmented and very pink, but when I applied it (with a gentle hand of course) it was the perfect shade. Definitely one of my favorite items I received this month.
Honest Organic Lip Balm in Be Simple
retail 3pk for $10.95 // I am so jelly jelly of everyone who received a scented lip balm! I received Be Simple which is plan unscented. Boriiiiing. Aside from the boring scent, I love that they are made from organic jojoba and oils from olives, sunflowers and coconuts. Tahititian Tamanu oil, rich with Omega 6 & 9. Nothing but the best ingredients! Thanks Jessica Alba and friends.
Jenny's two cents-
Hi guys! I'm adding into Yen's blog post. I loved this lip balm. I got the lavender mint scent and feels and smells minty on my lips. I love how it glides across my lips and I like to use it before I start my day and before I go to sleep.
Wash with Joe Coffee Mint Body Wash
retail $28 // The one thing I was looking forward to turned into a huge disappointment! When I first sniffed the scent, it reminded me of the stuff you put in your dog's water to help freshen their breath. Then, when I tried to use it in the shower? I think the bottle itself is made out of hard plastic because I couldn't squeeze out the product. What's the point of having a spout on top if the bottle isn't squeezable. Yea... that was a problem. On top of that, the liquid was thin and brown which looked really gross. And the smell? Horrible! Did it work? I didn't feel extremely invigorating after. I think this is a great product for the men in our lives. Especially mine who wakes up at 4:45AM every day. I would like it more if the scent was sweeter or creamier.
Alterna Bamboo Style Boho Waves Tousled Texture Mist
retail $22 // Hair styling products is one of those samples I hate to receive just like how everyone hates those perfume samples. My hair looks the same 364.5 days of the year. Yes, I'm incredibly boring like that. I have yet to try it, but I am curious to see how this will hold up in my fine, straight but thick hair.
Jenny's two cents-
Ok, so I did try this product and I have really thick and wavy hair so unfortunately this product didn't do much for me. It pretty looked like I spent the at the beach and my hair looked bigger and windblown.
Bulgari Bath Tea Bag
retail $9.50 // Can you believe this is worth $9.50?! Yeaaa me neither. I actually haven't used this. I rarely take baths, but I'm thinking of hanging it up in the shower instead. I have to say though, best concept ever! Everything in a neat little pouch... still getting the same benefit but without the mess.
Le Metier Replenishing Daily Solution
retail $225 // I remembered we received this back in the Man Repeller box and this stuff is liquid gold! At $225 for 1.70oz? Way way overpriced. Even if I was ballllin', I wouldn't spend this much on a product.
Jenny's two cents-
Whyyy oh why is this product 225 dollars?? I tried it and it was awesome. It made my skin look smoother, my pores look a lot smaller, and the redness go away. Honestly, it really works and if it were in my price range (like $60) I would repurchase it in a heart beat.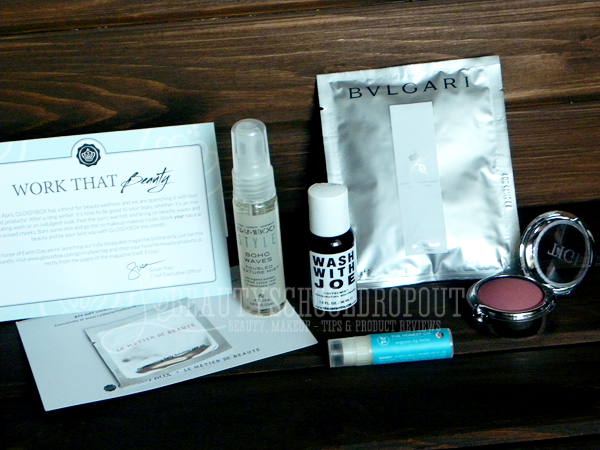 We're also hosting our blog's first year anniversary giveaway in the next couple weeks! So, stay tuned because there's 2 different prizes for 2 winners!