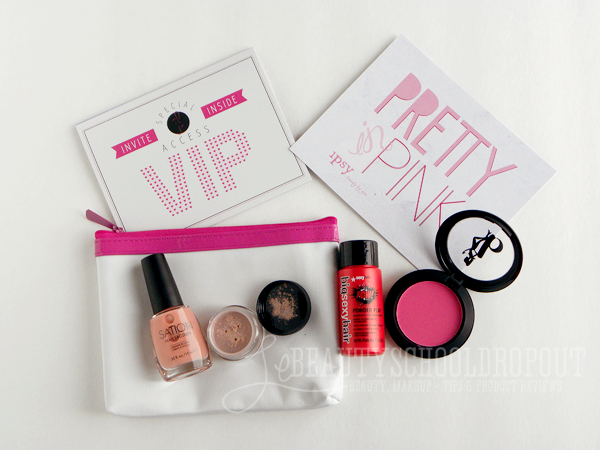 Sorry for the extremely late post on my first
Ipsy
bag! First off, I don't know
why
, but my bag was here in WA, but decided to take a trip to CA and then back to here. Odd, I know. When I finally received the hot pink bubble mailer I was so excited! I'm not too thrilled about the bag itself though, but the items inside were okay and I was just happy that nothing broke in transit.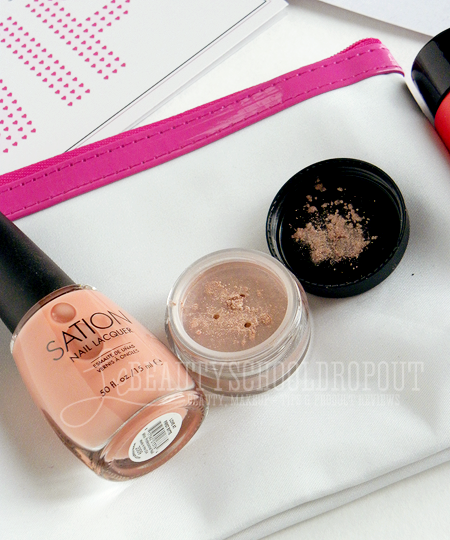 Sexy Hair Powder Play
retail $15.95 // Originally, I was hoping to get the Soy hair shampoo because it's one of my favorite every day shampoo. I don't normally style my hair so I received the Powder play, I wasn't too thrilled, but I think it will be good product to use when I attend a wedding next month.
Sation Nail Lacquer in Love At First Byte
retail $5.00 // The color I received is a peachy flesh tone nude and I have to say, it looks horrible on me! What I do like about the product is that it's Formaldehyde, DBP & Toluene Free.
Be A Bombshell Blush in Beach Please
retail $16.00 // This blush is really bright and very pigmented! HOLYMOLY. A little definitely goes a looooong way with this one.
Mica Beauty Mineral Eye Shadow in Earth
retail $14.95 // This product is extremely gentle, free of preservatives, chemicals, dyes, talc, oils, and other fillers. The color? Absolutely gorgeous! It's a light shimmery color and I like that it's over shimmery where my eyes are like disco balls.
Overall, this bag didn't impress me much, but I'm definitely looking forward to May's bag which looks pretty promising.
Thanks for reading and sorry for taking so long to write a review!