Hi everyone! My June Sample Society Box has come in the mail and it's a great value box. Last month's box was underwhelming for me, but this month's box has lots of awesome stuff, including a small candle! Let's look at what was inside.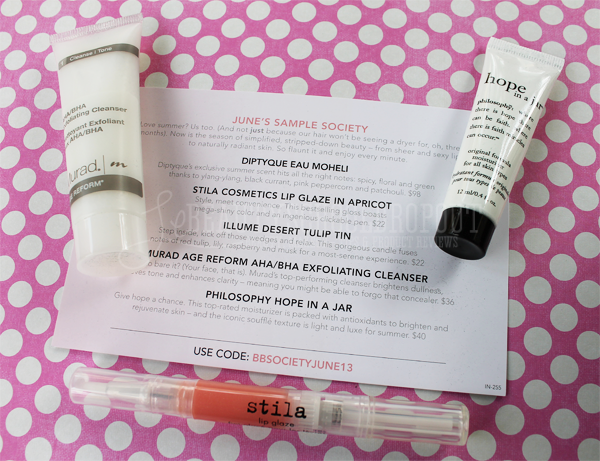 1.
Stila Cosmetics Lip Glaze In Apricot (full size $22)
- This lip gloss looked so pretty in the tube I didn't even want to try it. Mmmmmm it smells like apricot candy! It smells so good and juicy. The color on me pretty much looks clear with a tiny bit of shimmer. The texture is sticky.
2.
Diptyque Eau Moheli (full size $98)
- Diptyque's exclusive summer scent hits all the right notes: spicy, floral and green thanks to ylang-ylang, black currant, pink peppercorn and pachouli. Although, I'm not a huge perfume person myself, Diptyque makes wonderful perfumes. This one in particular reminds me of the gardenias my grandma plants in her backyard. If you're looking for elegant, floral, and classic scents, Diptyque is the way to go.
3.
Philosophy Hope in a Jar (full size $40)
- I've always seen this at Sephora and wanted to try it, but I never took the plunge. So when I saw it in my box I was pretty excited. This moisturizer was really lightweight and absorbed super fast into my skin. It had an interesting smell. At first, it smelled really chemical, but on closer inspection it kind of smells like licorice. I'm not a big fan of the smell to be honest. The product itself is pretty good. It doesn't keep my skin as tight as my other products, but it does a nice job of brightening up my skin.
4.
Murad Age Reform AHA/BHA Exfoliating Cleanser (full size $36)
- Polish away dullness and locked-in impurities with Murad AHA/BHA Exfoliating Cleanser, which utilizes a trio of gentle exfoliating acids. I really liked this lightweight cream cleanser. It had small exfoliating beads in it and it felt so gentle on my face. It says for optimal results to use it 2-3 times a week.
5.
Illume Desert Tulip Tin (full size $22)
- I'm sooo excited I got a mini candle in my box this month. Isn't it pretty? It has a light floral scent with notes of red tulip, raspberry, and musk. These would make awesome gifts for girlfriends. The mini ones are $9 each! I wouldn't mind if Sample Society sent me a candle every month. :)
I was super happy with this months box. I hope the next one will be just as great! Beauty boxes have opened me up to so many great items that I would have never tried on my own. I am really loving them. If you'd like to sign up for a box, you can do so
here
and enter the code:
STAT4718
to get 20% off your first order. I hope you enjoyed this post and thank you so much for reading! <3