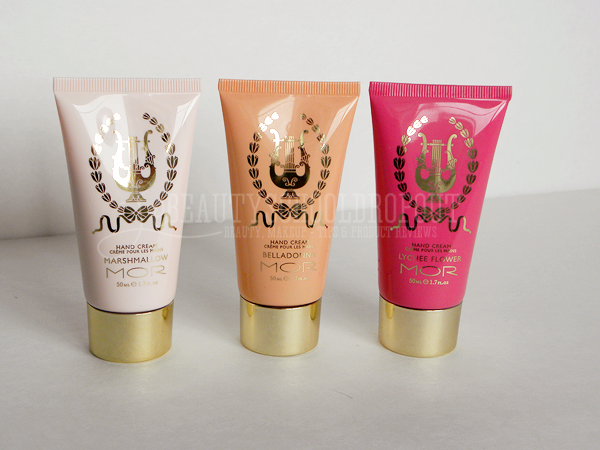 Have you guys heard from
MOR Cosmetics
? I've only seen them sold at Ulta... or at least mine. The website says
MOR is proudly Australian and recognised globally for its range of innovative, luxurious pampering body care and lifestyle products. The philosophy behind MOR is to provide a personalised sensory journey. We aim to awaken your senses, through creating a memorable pampering experience from the visual packaging to the product offerings.
When the Ulta near my house opened up, I discovered MOR and I literally fell in love with their
lychee flower
scented lotion. It has a sparkling sweet lychee flowers united with ripe Berries, soft powdery Florals and the slightest hint of Green Forest Woods. It's absolutely delicious. While I browsing Ulta the other day, I found this little hand lotion set in the clearance section and I just honestly could not pass it up.
It has
Marshmallow
which I thought was going to be a sweet scent, but ended up being the complete opposite. Their site says
Vanilla Musk and Jasmine Flower that gloriously rapture in this pretty, feminine fragrance. Sugar dipped Rose petals with White Carnation and Cotton Candy play beautifully to create a deliciously sweet perfume
.
Second up is
Belladonna
and the site describes it as
Spring symphony of White Narcissus, Moroccan Rose and Pink Tulips enlivened with a sparkling mist of Meyer Lemon. Finally it is sweetened with a touch of French Cassis, Sandalwood, Vanilla and Musk to leave a trace of tender warmth
.
I'm not really into the musky heavier scents so Marshmallow and Belladonna isn't exactly my favorite, but still wearable. The scent is very noticeable! Even after washing my hands a couple times, the Marshmallow scent was still very prominent. Each tube is only 50ml/1.7 fl oz and on their site, it retails for $12 each. I bought this set for $14.99, so definitely check out Ulta's clearance section. After checking out their website, they have even
more
delicious scents that I want to try out!