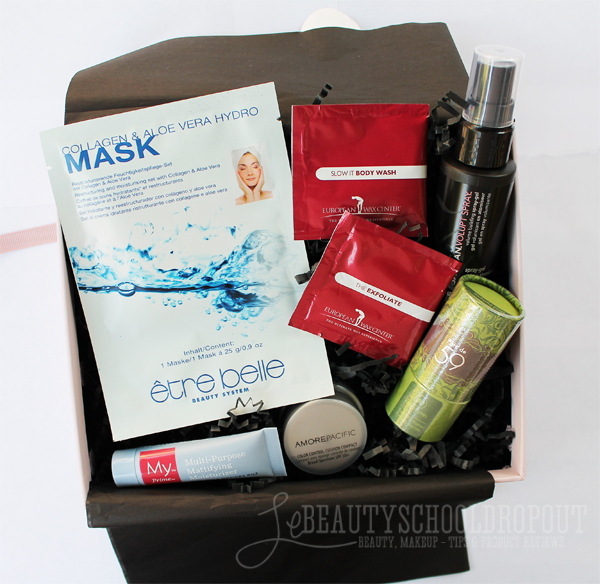 Hello everyone!
I present to you the May Glossybox. Perfume, hair spray, and CC cream galore! Let's take a closer look.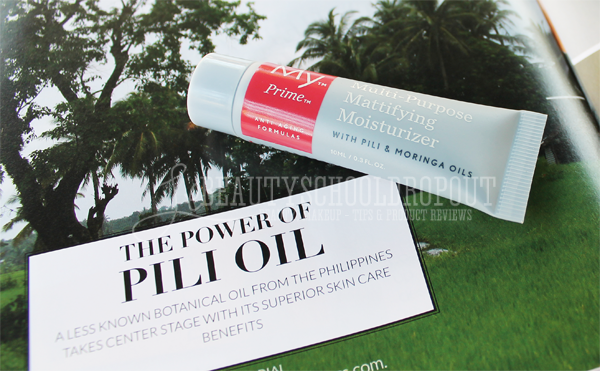 1.
My Prime Multi-Purpose Mattifying Moisturizer (full size $68)
- My Prime's lightweight moisturizer packs a double punch with intense hydration and superior anti-aging benefits while delivering a flawless, matte finish. It also doubles as a primer that keeps your makeup on all day long. Wow! I have tried a couple of primers before but never really felt the need for one as I like to keep my skin as minimal as possible. However, this one worked really well for me. I layered it under my Amore Pacific CC cream and it worked like a charm. Not only did it hydrate my skin, but I really felt it locked in moisture and provided a smooth canvas for makeup application.
2.
Nicka K New York Absolute! Perfume Stick (full size $15)
- Escape the everyday with evocative scents, both refined and seductive, and each with a different secret to discover. Parceled in beautiful, boutique-inspired packaging, these addictive perfumes are perfectly sized to slip into your purse and transform your world. Mmmmm! I normally hate perfume, but this one is actually really nice. It smells like lime fruit candy but not overpowering or sickly. I really want to smell the other ones too.
3.
Sebastian Professional Volupt Spray (full size $20)
- The Volupt Spray is a volume-building spray gel with the cushion particle technology that best combines full volume and sensual softness. Shake well to activate its two-phase for- mula and spray on damp hair. Blowdry for extra body or air-dry to enhance waves and curls. Ok, I'm going to be honest here. I already have huge hair that can conduct electricity, so the last thing I really need is a volume spray...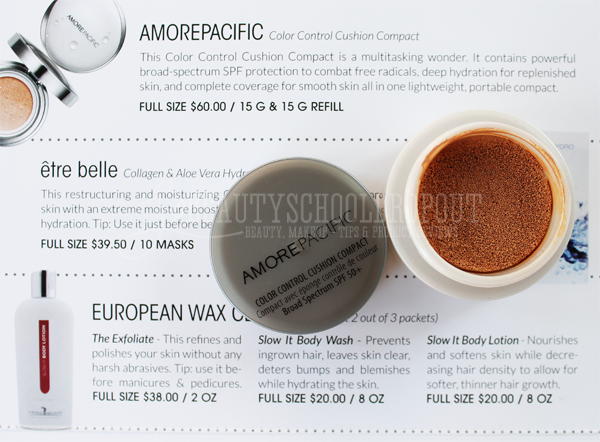 4.
AMOREPACIFIC Color Control Cushion Compact (full size $60)
- This Color Control Cushion Compact is a multitasking wonder. It contains powerful broad-spectrum SPF protection to combat free radicals, deep hydration for replenished skin, and complete coverage for smooth skin all in one lightweight, portable compact. This was
my favorite item in the entire box
. It's actually a CC cream which is the evolved version of the BB cream. The product comes in a sponge soaked pot and you use a foundation sponge to dab it on your face. At first I was skeptical, but the results are nothing but amazing! The product goes on so easily and it literally erases your pores and redness. Also it looks
completely natural
and has SPF 50+. The sample that Glossybox sent me was 106 Almond blush which was too dark and orange, so I went out to Sephora and tried the 104 Tan Blush which is pretty close (but still a smidge dark) to my light but summer tanned skin.
If there ever was a breakthrough product of the year for me, this would be it. I really hope the company comes out with more colors because even 104 would be way too dark for fair or lighter skin tones. The entire line just seems more suited to medium skin tones. I'm really loving this CC cream because it's sheerer than a BB cream and it's perfect if you want a natural and minimal looking product to cover pores and redness.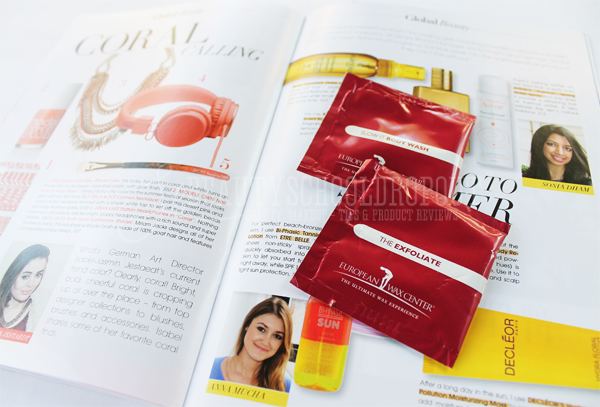 5.
European Wax Center The Exfoliate (full size $38)
- This refines and polishes your skin without any harsh abrasives. Ummm, to be honest this gel exfoliator without beads smelled tropical and great but it didn't do much for my skin. I think I'll pass.
6.
Etre Belle Collagen & Aloe Vera Hydro Mask (full size $40/10 masks)
- This restructuring and moisturizing Collagen & Aloe Vera mask provides skin with an extreme moisture boost that improves elasticity and promotes hydration. Tip: Use it just before bedtime to reap optimum benefits. This cloth face mask is super soaked in essence. I put it on my face for about 25 minutes and my skin was super hydrated. This is the most hydrating face mask I've ever used. The next morning my skin was super soft. If you have dry skin, give this a shot.
Once again, I was super happy with my Glossybox. There are so many products that I would never pick up and try if it weren't for Glossybox. This month I was super happy with the CC cream, the face mask, and the perfume. Glossybox I love you. If you'd like to subscribe to Glossybox you can do so by
clicking here
. We hope you enjoyed this post and thank you so much for reading! Did any of you receive a Glossybox this month? If so, what did you think?