I am so sorry for the late review, but I received my June
Ipsy
bag while I was away on my mini vacation and just now got around to posting about it. This is my second "bag" and so far I'm 50/50 on it. This month I received 4 out 5 full size products which is actually pretty good considering the bag itself is only $10. I think
Ipsy
has improved a lot in the last year with their products and I shouldn't really complain since it's only $10 a month.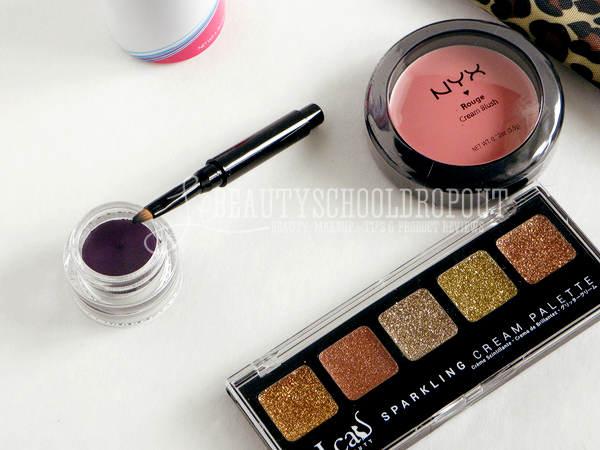 This is what I received this month:
Psssst! The TRUE Original Dry Shampoo
retail $13.98 // I've tried a couple dry shampoos in the last year and I was pretty excited to receive this in my bag. I have pretty oily hair if I don't wash it every single day, so Thank God for dry shampoos! The scent is pleasant and the spray is pretty powerful. It didn't leave any white residue in my hair (i have black hair) and my hair doesn't feel like a giant grease ball. For their full size (5.3 oz I believe), it's $14 which is a tad expensive compared to my current favorite at 7oz for only around $6.
Cailyn Gel Liner in 06 Purple
retail $24.00 // Finally a eyeliner that's not liquid or pencil! I personally love gel liners and am loving my
Tarte Amazonian Clay liner in Black
, but a dark purple is a nice change up. One of the things I absolutely love about this product is the fact that the brush is attached to the product. The color is really nice and buildable. Staying power is great too!
JCat Sparkling Cream Palette in Suzie
retail $4.49 // I love glitter as much as the next girl, but honestly, what am I going to do with this palette?! It's intended for body use, but how many of us can say that we use glitter on our body on a daily basis? I know I definitely do not. I'm sure this palette would be great during Halloween or if you're a performer and need that extra sparkle.
Starlooks IPSY featured lip liner in Tipsy
retail $12.00 // I didn't bother to open this one and has been stashed away in my goodies box. The color itself looks like a coral-y red, but I don't have any lipstick that goes a long with it... unless Ipsy plans to ship me the lipstick for July.
NYX Rouge Cream Blush in CB11 Boho Chic
retail $6.00 // Another unopened product. I think the color is really pretty, but I personally do not like cream blushes. This product will also be stashed away in the goodies box or will be in a giveaway.
Overall, the bag itself is only $10, but with the products of this month, it's about $50 worth. If you're interested in trying out
Ipsy
, please click
here
to join! :)