Hello everyone!
How are all of you doing? August's Glossybox is here and I have to say that I am quite happy with this box! There is nothing better to coming home to a lovely box of goodies and getting a lipstick shade that actually flatters your skin. Let's take a look at what was inside of this month's box.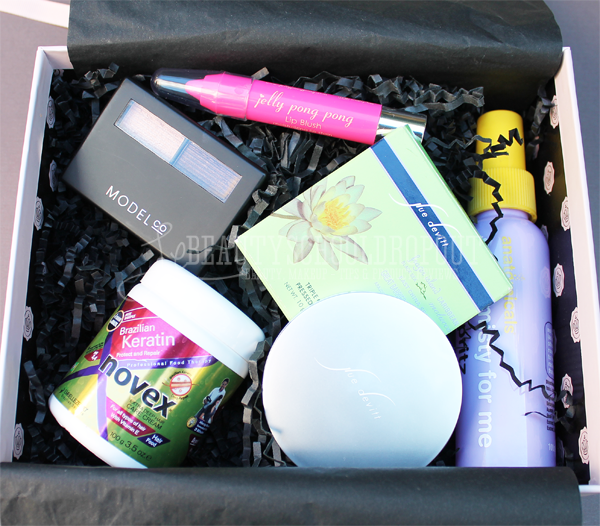 1.
Jelly Pong Pong Lip Blush in Marshmallow Pink (full size $12)
- A moisturizing lip stain that tints your lips with just the right amount of juicy colour and hydrates like a balm. Apply liberally, purse and let the silky lightweight texture melt onto your lips. How fun is this pink lip stain? I absolutely love lip stains because they are comfortable to wear and generally look more natural. This soft petal pink lipstick looks more hot pink on the lips and looks really good with a post summer tan. I love it! Ok, next item...
2.
ModelCo Eyeshadow in Bronze Goddess (full size $22)
- When I first saw this sample eyeshadow trio in my box I was soo excited. However, it's not without flaws. The light golden color is very light and very very flakey. The color comes out in large flakes which is hard to blend out. The darker color doesn't seem to have this problem tho.
3.
Anatomicals Spray Misty For me Facial Spritz (full size $9)
- This facial spray is wonderful for a spritz while lounging at the beach or hiking the trails. It contains calming lavender and refreshing peppermint extracts, which help to rehydrate and revitalize skin. Suitable for normal, dry and sensitive skin. A part of the reason why I love Glossybox is that I get products that I would never usually pick up or try. This facial spritz is really fun and perfect for the scorching oven I'm currently living in. I sprayed it directly onto my face and it didn't irritate my eyes either. The smell is actually really pleasant and I love it!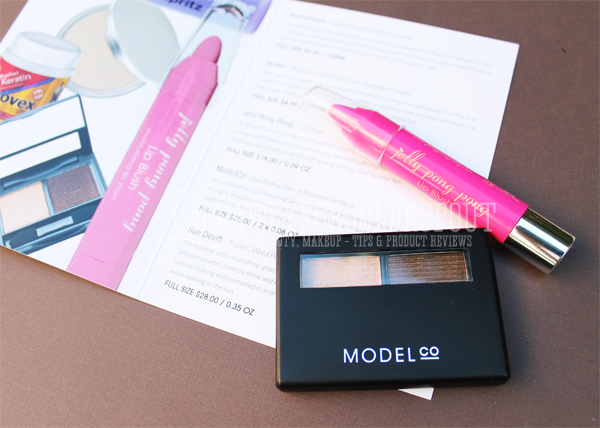 4.
Novex Brazilian Keratin Hair Care Treatment Cream (full size $4.99)
- This hair care cream is an essential preemptive treatment in anticipation of the drier seasons. It contains replenishing hair proteins to restore shine and smoothness for all hair types. Start using it now for a healthy head of hair in the fall. Ok, I used this in the shower and left it in my hair for five minutes. It made my hair soft and a bit shinier.
5.
Sue Devitt Triple C-Weed Pressed Powder (full size $28)
- Formulated with nourishing green tea and brightening vitamin C, this lightweight pressed powder controls shine and evens out skin tone while setting makeup. It's soft, natural-looking skin contained in a compact, a perfect companion to have in your purse while basking in the sun. With flexible Nylon-12, Triple C-Weed Pressed Powder won't settle into fine lines to ensure a flawless finish. This lightweight pressed powder comes in a mirror compact with an ultra modern micro-sponge, making it the perfect on-the-go companion. Wow, it's really generous of Glossybox to give us a full size powder compact. I have yet to try this compact because the shade looks really light. I will have to try it later for winter.