Hi everyone!
November's Sample Society box has dropped and it's a mixed bag of goodies. Some stuff is alright and some of it is awesome. I got a mini Illume candle in our my this month, yay!! Let's take a look at what else was inside..
1.
Borghese Splendore Brightening Makeup (full size $29.50)
- Be glamorous and gorgeous with a hint of shimmer. Splendore Brightening Makeup gives a subtle glow that brightens any complexion. This light-diffusing liquid camouflages imperfections and veils fine lines. I tried this over my usual skin care routine and it didn't do much except give my face a subtle hint of shimmer. I'll have to mix it in with my bb cream next time.
2.
Annick Goutal Eau d'Hadrien Eau de Toilette (full size $92)
- Tonic, zesty, sparkling, refined, subtle and fresh at the same time Eau d'Hadrien is the ultimate timeless fragrance for men and women with notes of Sicilian Lemon, Citron and Grapefruit, the scent is both sportive and chic.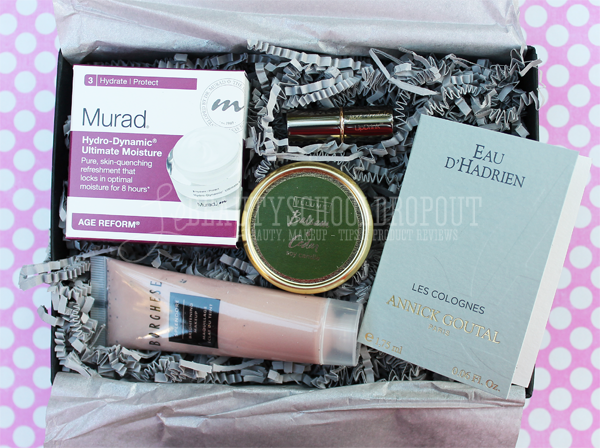 3.
Illume Balsam & Cedar Large Harlow Jar (full size $36)
- Whoo hooo!!! Another candle in my box. This candle smells like Christmas trees and fresh pine cones. It smells soo good. Normally scented candles make my allergies go crazy, but Illume ones are so subtle and nice. This one is going directly into my travel bag so I can take the holiday spirit with me. I absolutely love it! Our Balsam and Cedar Large Harlow Jar features a comforting blend of fresh balsam and oak moss intertwined with aromatic cedar wood, cinnamon and eucalyptus to create the very essence of the holiday season. Up to 70 hour burn time.
4.
Jane Iredale Lip Drink Lip Balm (full size $12)
- Meh. Before I even try this product I have to say that the sample is so flimsy and feels like it's going to snap any second. Jane Iredale LipDrink - SPF 15 is a drink for the lips. This colorless lip balm contains no petroleum-derived ingredients to dry out the lips, making lips feel moist and smooth. Providing Broad Spectrum SPF 15 and UVA P++ protection, LipDrink is a refreshing treat.
5.
Murad Hydro-Dynamic Ultimate Moisture (full size $65)
- Meet the single most hydrating moisturizer Murad has ever offered. Ultra-concentrated and intensely hydrating, this velvety cream provides all-day moisture, smoothness and comfort - leaving your skin positively radiant. This moisturizer is simple and nice. It kept my skin hydrated all day!