Hi everyone!
Today I will be reviewing the latest Byrdie box from October's Glossybox. I was so happy to receive this month's box. Glossybox sent out items from Tarte and Fresh this month, which are two of my favorite beauty brands! Lets take a look at what was inside the box..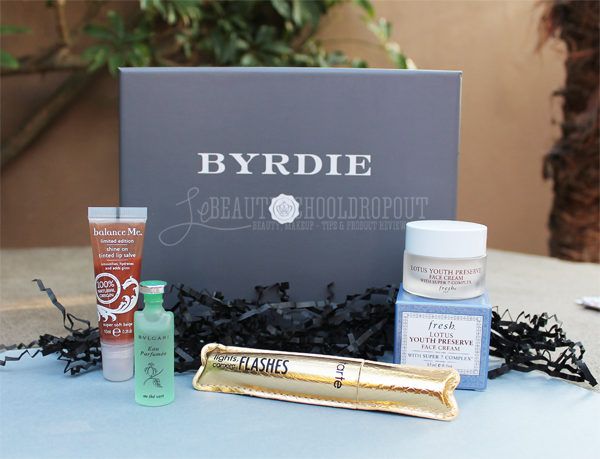 1.
Tarte's Lights, Camera, Flashes, Statement Mascara (full size $23)
- Amazing! A full sized mascara from Tarte, whoo hoo! I got gorgeous long feathery non clumpy lashes with this mascara. The wand has two different sides. The first side gives volume to your lashes, and the second is to comb out the clumps. The only downside was that I had some fallout with this mascara.
2.
Fresh Lotus Youth Preserve Face Cream (full size $42)
- A daily age-defying moisturizer formulated with Fresh's proprietary Super 7 Complex, proven to prevent the signs of aging, provide 24 hours of significant moisture, and boost radiance. Sometimes I really feel like Glossybox can read my mind. I've been eyeing this face cream for a while now but haven't take the plunge on it yet. The sample I received was a generous sized sample, yay! The face cream is super lightweight and fast absorbing. My skin didn't feel greasy or dry. It felt hydrated, refreshed and
super clear
the next day. I would buy this!
3.
Balance Me Shine On! Tinted Lip Salve (full size $16.50)
-Ok.. so I wasn't too excited about this lip salve because I got such an unappetizing color. The color I got was like a brown beige color. Other than that, the salve itself is really moisturizing and nice.
4.
Sesha Rejuvenating Anti-Wrinkle Mask (full size $9)
- Packed with nutrients, peptides, vitamins, and botanical extracts, this anti-wrinkle mask not only smoothes fine lines and wrinkles, it also calms the skin from environmental stresses to rejuvenate it back to a youthful glow. Awesome, another face mask. I love face masks because they're so easy to use and give me the boost my skin needs. This mask was really moisturizing and packed full of hyaluronic acid, which left my skin looking taut and young.
5.
Bvlgari Eau Parfumee Au The Vert Eau De Cologne (full size $85)
- This green tea cologne is suitable for both men and women. Spritz and enjoy. Although I'm not a big fan of perfume, this one smells sophisticated and minty.