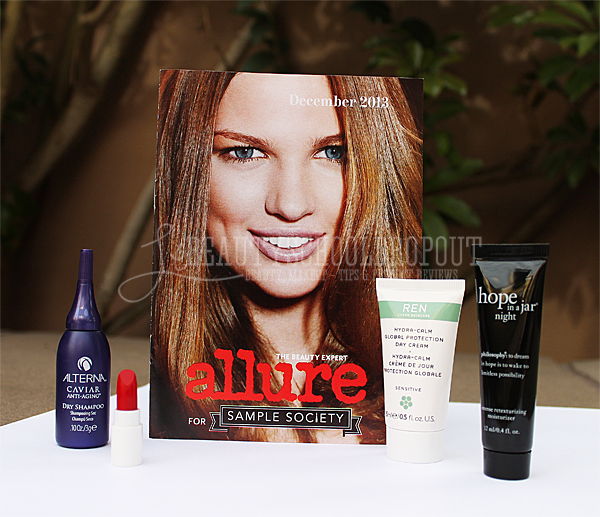 Hi everyone!
How are you all doing? I know I have a ton of stuff to catch up on. I have quite a few beauty boxes to sift through and to review, so you will be seeing a lot of them on the blog in the next few weeks. Today I will be reviewing Sample Society's December box. It was actually a really good box and I was pretty happy with it. Lets take a look inside...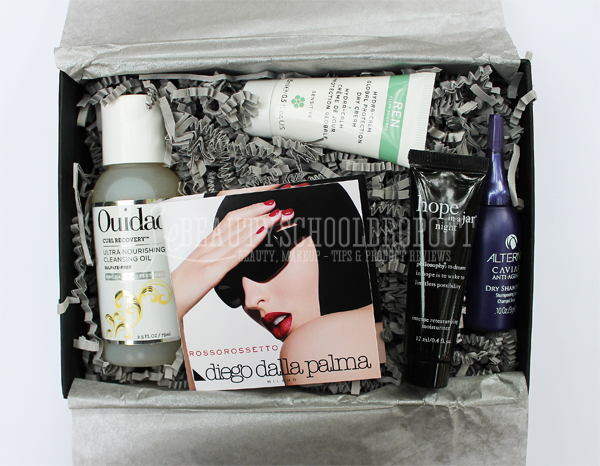 1.
Ouidad Curl Recovery Ultra Nourishing Cleansing Oil ($25)
- I've never tried a cleansing oil for my hair before so I was excited to get this in my box. It's like a gel that lathers and foams in your hair. The first time I used it I used a lot to get my hair clean and my hair came out a bit dry. The second time I used it I didn't use much and I couldn't get my hair clean. Maybe I'm not using it right?
2.
Ren Hydra-Calm Global Protection Day Cream for Sensitive Skin ($45)
- A moisturizer formulated to leave more sensitive skin optimally hydrated, calmed, soothed, protected and looking beautifully healthy. It protects against free radicals to combat the signs of premature aging. This was a great moisturizer. It was lightweight and it moisturized my face well.
3.
diego dalla palma Rossorossetto Lipstick-102. Red (full size $34)
- Wow this is one really red lipstick. It's more of a neutral cool red that makes your teeth instantly whiter. It's a beautiful lipstick and was pretty easy to apply, but for $34 I don't think I would splurge on it. The color was so bright that it's definitely more of a special occasion lipstick.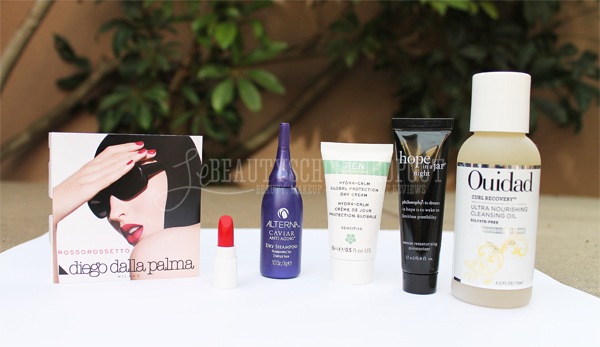 4.
Philosophy Hope In A Jar Night Intensive Retexturizing Moisturizer ($50)
- Hope in a jar night intense retexturing moisturizer features an innovative qusome delivery system that enhances efficacy, while limiting the potential for irritation. skin is noticeably smoother, lines are visibly softened, a rosy glow is restored and results continue to improve with nightly use. I've actually reviewed this one before. It's a good moisturizer but the smell is too chemical for me.
5.
Alterna Caviar Dry Shampoo ($22)
- Yay! A dry shampoo sample. I don't know how I ever functioned before dry shampoo. This is a powder formula that you just tilt and sprinkle into your hair. It worked just fine and it absorbed the oil in my hair. However, I still prefer Batiste dry shampoo because of the fun cold blast it gives you. It just feels more refreshing. Also, I think $22 is too much for a dry shampoo.
Overall, a solid box with lots of good quality samples to try. I think out of everything in this box I would probably purchase the Ren moisturizer.