Hello everyone!
How is everyone doing today? Today I will be reviewing two chubby sticks from Clinique. I've always seen Chubby Sticks around but I never got around to trying them. So when I saw a deal on Sephora to trade in my VIB points to get two of them I jumped on it. I received two full sized sticks in the shades
Curviest Caramel
and
Mega Melon
. Both them are super wearable and fun to apply. Out of the two I prefer Curviest Caramel more because it is less bright and more like a sheer MLBB nude dark pink. Mega Melon looks more like a saturated peach. Mega Melon is really pretty too but it's a bit bright for me and brings out the redness in my face, so I wouldn't really be able to wear it alone.
I really love the formula of both of them. I'd say they are somewhat hydrating but not anywhere as hydrating as the Tarte Lipsurgence pencils. Anyways, I still really love them and I've been wearing Curviest Caramel by itself to the gym lately. I definitely plan on visiting a Clinique counter to try on a few more soon.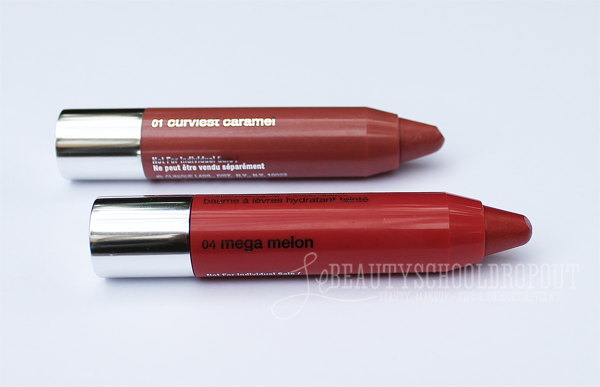 Clinique Chubby Sticks retail for $17 a piece and you can get them
here
. Have any of you tried Chubby Sticks before? If so, which ones are your favorites? Please let us know in the comments below! Thanks for reading! :)