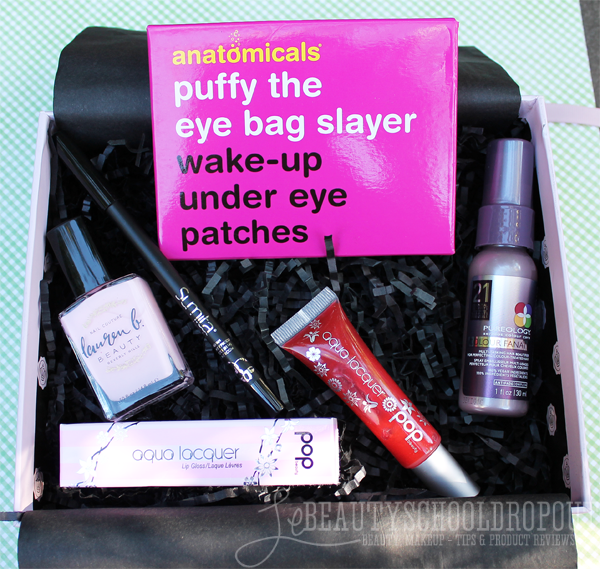 Hello everyone! How are you all today? I hope your week is going well. I'm sorry for the late post. Yesterday I got into a car accident when a truck tried to make pate out of me on the freeway, so I literally just spent the rest of the day snuggling my cat in bed. But, all is well and onto February's Glossybox!
I have to say I was happy with this month's box. There were at least two items I really liked. Let's take a look inside..
1.
Puffy the Eyebag Slayer Wake Up Under Eye Patches ($11 for box of 3)
- I love these eye patches! This was my favorite item in the entire box. The box comes with 3 sets of eye patches that stick well to your skin. They're like jello sucking pads that stay put like stickers. I love how I can stick them on, do something for 30 minutes and throw them away. I have to say they only lightened my dark circles a smudge, but it makes me happy when I know I am doing something proactive for my skin. I thought these were super fun and I would definitely buy them again.
2.
Nail Couture in City of Angels ($18)
- Wow, 18 for a nail polish? Sometimes I really wonder how nail polish evolved to be so expensive. Anyways, I think it's a really pretty ballet pink color that would look great on many skin tones. I plan on trying it out once I remove my current gel mani.
3.
Aqua Lacquer in Splashing Scarlett ($14)
- Ahhh, I feel so lucky to receive this gloss in my box. A full size pretty strawberry lip gloss? Yes please! The color is a sheer reddish pink and looks good for those no makeup days.
4.
Kala Color Intense Pencil ($15)
- This eyeliner goes on like a wet intense black. However, I had some trouble getting it to glide evenly without clumps. I think it would've been so much better if it came with a smudger on the end. Nothing compares to the deep, rich color of this eyeliner. Transform your eyes, add gorgeous definition and make the whites whiter by simply drawing the line. Ideal for use on the inner water line of your eye, as well as the outer lash. Don't worry, you can blend and play, but it will last all day... and all night.
5.
COLOUR FANATIC Multi-Tasking Hair Beautifier for Color-Treated Hair ($24)
- I have yet to use this multi spray yet, but I will later. I know Pureology makes great products so I'm looking forward to trying this. Introducing COLOUR FANATIC™, a first of its kind multi-tasking hair treatment spray that provides 21 essential benefits to prime, protect, and perfect colour-treated hair.
What did you guys think of this month's box? Have you tried any of the products before? I hope you enjoyed reading this post and I will see you soon! :)