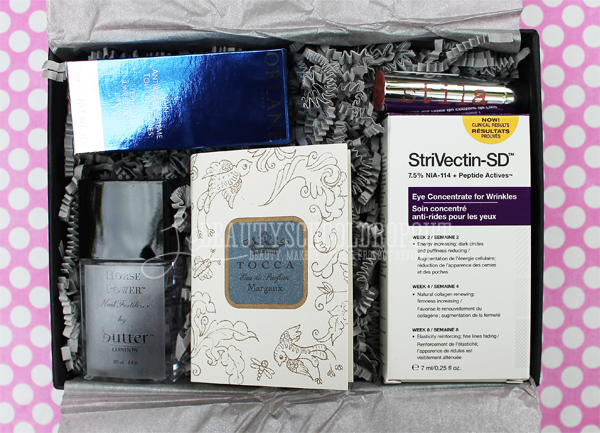 Hello everyone,
I hope you're having a good Monday today. I will be reviewing Sample Society's January box. I wasn't too keen on this month's box because some of the items were not suitable for me. However, I did receive a lovely lipstick this month! Let's take a look…
1.
Stila Cosmetics Color Balm Lipstick-Vivienne ($22)
- A modern take on traditional lipstick, this creamy, lip color provides the full pigment load of a lipstick, yet delivers the shine of a gloss. Featuring a luxe, satin finish, this formula offers excellent color payoff while phyto-derived emollient properties deliver hydrated, healthy lips. Naturally cooling peppermint oil provides a fresh and rejuvenating sensation on the lips, while an exclusive certified organic sunflower based polyglyceride soothes, smoothes, and adds volume and definition to lips. Available in 16 luscious shades. I was really happy to get this lipstick in my box. I'm always happy when I get lipsticks in my box. :D The color is really natural and pretty and definitely a rosy MLBB shade. The texture is creamy.
2.
Butter London Horse Power Nail Fertilizer ($20)
-Horse Power Nail Fertilizer packs a punch even without those chemical nasties. Like makeup for the nails, it uses an herbal ingredient called Horsetail to strengthen and repair nails. When used properly, the results are really quite staggering! This seems like a great product, but since I have strong nails (from eating a lot of rice,) I personally won't use it. I will probably use it for an upcoming giveaway. :)
3.
Orlane Paris Extreme Line Reducing Lip Care ($75)
- Achieve truly kissable lips with Orlane Paris Extreme Line Reducing Lip Care. This luxurious treatment plumps lips in just minutes, helping to redefine a beautiful pout. It also hydrates, softens and protects, while preventing fine lines and wrinkles from forming around lips. Ok, so I don't know why I opened this up, but I tried it anyways. It's like a milky watery substance that you put on your lips and it supposedly helps to reduce wrinkles. I don't have any wrinkles yet on my lips so I can't say whether or not it works. It doesn't taste like anything either.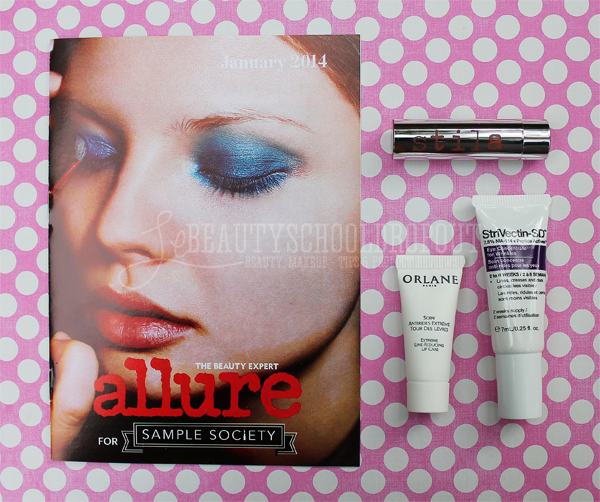 4.
StriVectin SD Eye Concentrate for Wrinkles ($65)
-Reduce the formation of wrinkles around eyes with the use of StriVectin SD Eye Concentrate for Wrinkles. This formula can fight against dark circles, puffiness around eyes, fine lines and crow's feet within weeks. It can increase the firmness, improve texture and renew skin's natural collagen. With regular use of this formula, you can reinforce skin's elasticity and do away fine lines and crow's feet. I will be gifting this to a friend.
5.
Tocca Eau de Parfum, Margaux ($68)
- The full moon overhead casts a silver light on a midnight stroll between a French beauty and her beloved. Evoking the warmth and comfort of finding your soulmate, Margaux embraces you with velvety petals of green gardenia and ambery violet. The richness of cashmere wood and warm musk, lightened by the sweetness of vanilla, envelop you in an intoxicating perfume that conjures the timelessness of that one true love. / Top Notes: Blood Orange, Bergamot Blossom, Cassis, Green Gardenia / Middle Notes: Black Jasmine, Ambery Violet, Cashmere Woods / Bottom Notes: Warm Musk, Benzoin, Vanilla, Heliotrope.
What did you guys think of this box? Thank you for reading and I hope you have a great rest of the week. <3