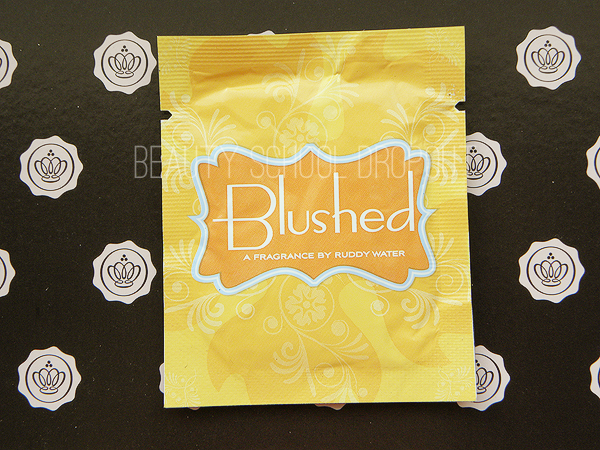 Let me just say this, from subscribing to
Birchbox
, I have accumulated quite a bit of perfume samples which I have stashed away in a little baggie. Personally, I really don't like perfume samples and considering you're paying for these boxes to receive them, is a little crazy since you can get them for FREE at department stores. So, when I opened up my Glossybox, I was slightly disappointed, but also very intrigued since it didn't come in a little vile or spray bottle, but in a pouch like those hand sanitizing wipes you get.
Our Premier fragrance Blushed is the perfect scent for day or night, and is loved by women of all ages.

Featuring notes of bright red currant and rich vanilla, wrapped around subtle sweet lemon, slightly spicy ginger, and kissed with a hint of sugar.

This inviting fragrance will mingle with you throughout the day.
Surprisingly, I really loved Blushed by
Ruddy Water
. I kinda wish it was a candle so I can have it all the time! I really like that it comes in a pouch, perfect to tuck into your clutch/wristlet when you're out on the town and need a little something to freshen up. You can purchase them
here
for a box of 24 at $22.