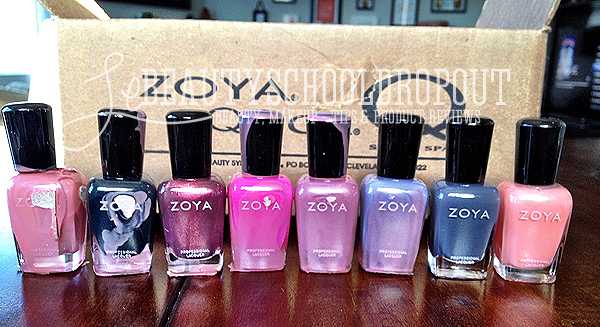 Awhile back
Zoya
had a back to school BOGO sale and you were limited to only 8 bottles (buy 4 get 4 free) which I did just that. I apparently have a really hard time finding Zoya products in my area, so when I first heard about this sale, I definitely wanted to jump on it as quickly as possible.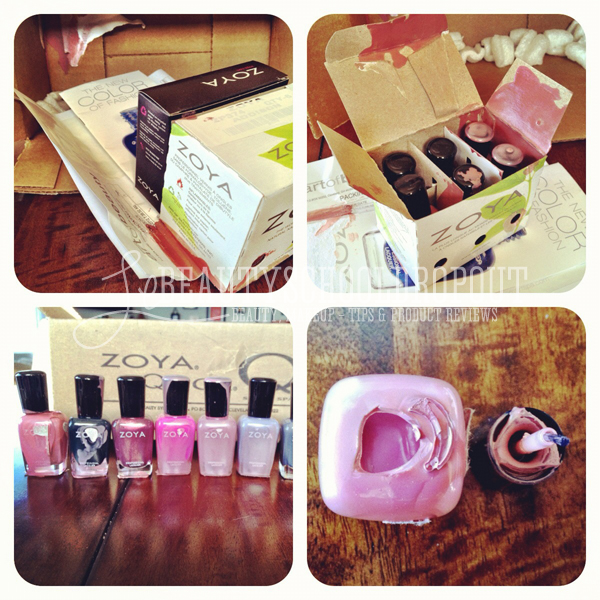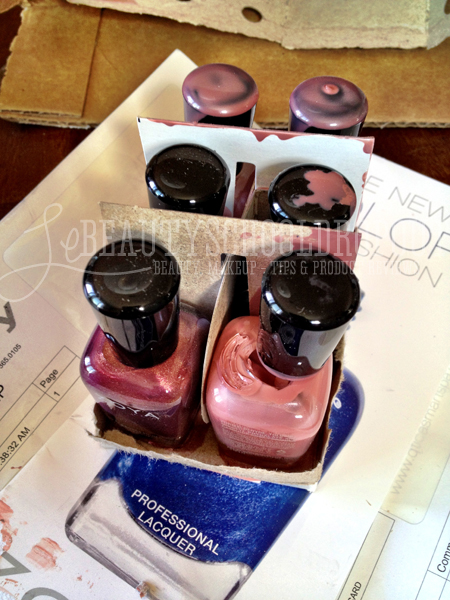 My order couldn't of came at a better time! It arrived the day before my birthday, so you know I was beyond ecstatic, but once I started to unpackage everything, I was extremely saddened that one of the bottles broke in transit and it's content spilled everywhere and things were stuck to it. I did, rip off the polishes inside the box and cleaned up the spill with nail polish remover, but there are bits and pieces of cardboard stuck to it. As well as some of the name stickers have came off.
With it being Labor Day weekend, I wasn't sure customer service was open and I tried to reach out to them through Twitter over the weekend with no tweet back til Monday or Tuesday. I ended up going on live chat yesterday and spoke to someone named Shelle W and she was really nice and responded to me quickly. I ended up emailing her the photos I'm posting here of the damage and lo and behold, she emailed me back this morning with amazing news that Zoya is going to replace my 6 damaged bottles. *WOOT WOOT* Shelle W, you are amazing! Thank you so much to
Zoya
for sending me replacements! Which I haven't received yet of course, but
amazing
customer service!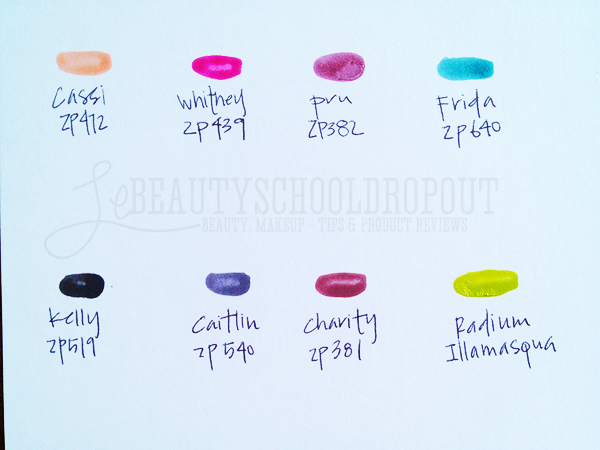 Here are the color swatches from my Zoya order and the last one is Radium by Illamasqua from my Glossybox. A lot of the colors are not showing up true to their color in person. Even the ones are their website. The color Charteuse is in, but to me, it looks a bit like Shrek or boogers. I also listed the links to all the colors if you want to check them out on their website.
Cassi (ZP 472)
is like a soft peachy color with a bit of sheen to it.
Whitney (ZP 439)
is actually a darker pink. A little more fuschia.
Pru (ZP 382)
actually has gold sparkles in.
Frida (ZP 640)
is actually a very sheer teal.
Kelly (ZP 519)
is a dark and soft grey.
Caitlin (ZP 540)
is a dark soft purple.
Charity (ZP 381)
dark mauve rose color.
Radium by Illamasqua
XOXO Yen