Hey everyone! Can you believe it's already October? For me personally, the faster time flies, the faster my husband will be home, so it's great for me! I think some people aren't ready for fall since the last 2 months is packed with holidays and get togethers and it can be stressful.
So, Jenny and I have
soooo
many plans and ideas that we want to do with this blog and one of them is doing monthly favorites. If you watch beauty gurus (which we're not) on Youtube, you know that they do monthly favorites so we thought we would bring that onto here as well. I personally do not wear make-up every day, but I have a couple that I have been using constantly and overall just in love with. I use Korres pomegranate cream-gel every night before bed and every day in the morning. I did make a post about it
here
and it's been keeping my face well moisturized through out the day. Aside from the scent, I love how it doesn't turn my face into a giant grease ball.
I've also been using my Maybelline BB cream in Medium which fits my skin tone perfectly at the moment. It's light and gives me great coverage and it goes on smooth and doesn't make my face cakey. I like to use my fingers to apply and it's really quick and great for you're just going to run out to do some errands. I wear mine alone and I don't set powder on top.
Urban Decay eyeshadow primer is like magic! If you haven't tried it, I recommend you do! Great staying power and doesn't make your eyeshadow fade or smudge.
Tarte's Amazonian clay 12-hour blush in Dollface
is definitely my all-time fave blush. EVER. It's light and gives you just a slight color and I like to pair mine with
MAC's soft and gentle mineralize skin finish
.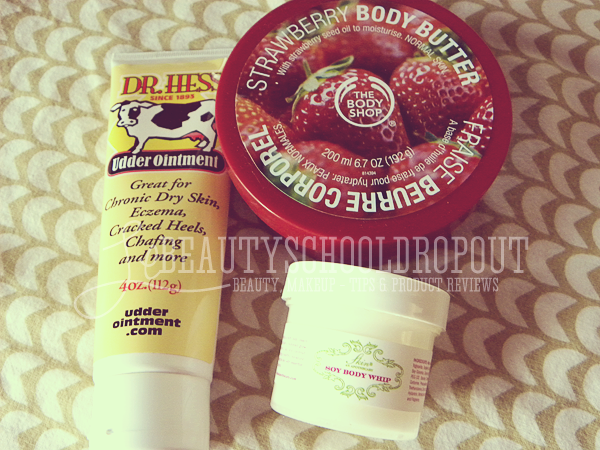 I found out earlier this year that I'm type-2 diabetic and from time to time, my doctor checks my feet for feeling and whatnot. On my last visit, she saw my callouses which I've had for a really long time due to wearing flip flops year around and not wearing socks = ugly feet. She recommended using Udder cream which sounds absolutely crazy, but I can personally say they WORK! I found
Dr. Hess Udder Ointment
at my local Walgreens. They're located where lotions and things are (i think) and they're usually at the bottom of the shelf. Udder ointment is great for eczema, chafing, severe dryness, diabetic skin damage, cracked heels. Instead of wasting your money on fancy products that promises to do the same exact thing, I highly recommend trying this out.
I picked up this Strawberry scented body butter by
The Body Shop
at one of those small Sephora inside JC Penney awhile ago since it was on sale for half the price. The smell is amazing! Smells just like japanese candy and it's a great moisturizer for spring/summer time, not fall/winter.. or at least for me. The one thing I hate about putting this on, is that my dog Maggie will crawl into bed and lick it off! Lastly, Poppy scented
soy body whip by skin an apothecary
. By far, maybe the third BEST thing I've ever received in my Birchbox! It's very lightweight, non-greasy, absorbs into skin and leaves you smelling like a bouquet of flowers.
I'm a candle hoarder and fall/winter scents are my absolute favorites! When
Bath & Body Works
recently had their 2 for $20 on 3 wick candles, I knew I definitely had to pick up some. I actually have more that's my pictured, but these are my top 5 favorites as of September. Leaves is like an afternoon spent jumping in a pile of freshly fallen leaves, this fragrance embodies all the richness of the season and features a medley of ripe delicious apples, red berries and golden nectar. Spiced Cider is a warm and soothing just like the real thing, our delicious, orchard-picked blend joins fresh apples, spiced with nutmeg and cloves. This one to mean actually smells nothing like the description! It makes my house smell like caramel apples instead. Paris Amour smells just like the lotion and it's very girly, very romantic. Definitely one of my favorite non holiday/fall/winter scents. The picked up the large candle on the left at my local fred meyer and it's not too bad. Hate that it burns unevenly. The white candle on top is delicious! It's pumpkin with amaretto and it's light and smells like amaretto biscotti.
Yup, so that's my September favorites! I hope you guys enjoyed this post... What has been your favorites in September? Leave a comment and let me know!