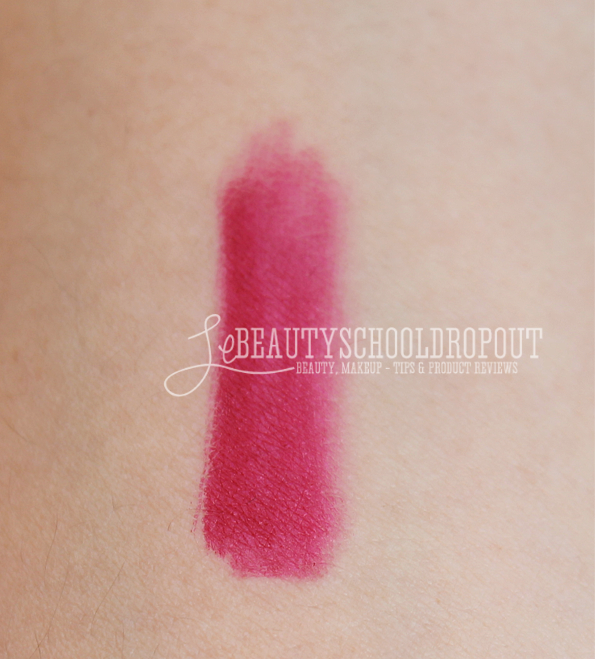 Hello everyone,
I hope you are all off to a good Monday. I can't believe how fast this year is going by and that it's already November. Today I am so excited to share my discovery of
OCC's Lip Tar in NSFW
(Not Safe For Work) $16. Although I have owned red lipsticks in the past, this is the first time I've owned a Lip Tar. I have to say, I am completely hooked! Sephora recently started carrying five shades of OCC Lip Tars so I decided to try all of them on. I instantly loved NSFW when I put it on. It's just a perfect neutral matte red that would look great on a lot of different skin tones.
The lip tar comes with an essential lip brush and I can't see how anyone would be able to apply this without a brush. To apply it, I used a minuscule amount of product equivalent to the size to a sewing pin head. You do not want to over apply these lip tars because they will end up feathering. I slowly filled in my lips and painted until I was satisfied. I was definitely careful and slow when I applied this otherwise, it could easily turn into a red Carrie mess. Once done, it looks amazing!
I actually then took a two hour bike ride to the beach to see how long this lipstick would last. Oh the things I do for the blog. :D Two hours, ten water fountain stops and a Jamba Juice later, my lipstick is still very much there. I also took my lip tar to eat korean barbecue, but it did come off after that. My favorite thing about this lip tar is that is doesn't get on my teeth. The only downside is that it was a bit drying, so I recommend putting lip balm
under
your lip tar. Putting balm over it might cause it to smear.
I love red lips because it's the easiest way to feel
glamorous
, and it goes well with natural makeup. The right red lip should make your skin look brighter, not sallow. Because it can be daunting to shop for a red lipstick, I am linking Lisa Elridge's Ultimate Guide To Red Lips
Here
. She has great advice and suggests a lot of red lipsticks to try. If you are new at shopping for a red lipstick, I suggest that you grab your best most honest girlfriend, head to the makeup counters, and try them all on. Start with a neutral red, then try a warm orange red, if that doesn't work, then ask to try on a blue based cooler red. I guarantee with a few tries, you will be able to find that perfect beautiful shade of red for you. I really hope you enjoyed this post, thank you so much for reading, and hope you have a great rest of the week.