Hello everyone! How are you all doing? I'm so glad it's finally the weekend. So, February's Glossybox has arrived and I am feeling pretty good on this one. Also, I have to say that this month's packaging was absolutely rockin. I loved the pink stuffing inside. It made me feel so girly and happy. Anyways, onto the stuff inside.
1. Bvlgari Eau Parfumee Au The Blanc Soap (full size $30)
This soap smells sooo good! I normally hate soaps or scents but this one smells so pleasant and flowery I can't stop sniffing it. I have yet to try it as I kind of want to keep it as it is. It's not everyday I get fancy Italian soap sent to my house.
2. Da Vinci Cosmetics Shimmer Powder in 7 Harmony (full size $15)
This highlighting shimmer powder can be used under the eyebrow or as a cheek highlighter. It seems a bit dark for me so I'll try it out as an eyeshadow instead.
3. Lisi Eye Definition Cream Eyeliner in water Sapphire (full size $10)
Ok, I'm not a huuuuuuge fan of cream eyeliners because I try to avoid any type of brush action period. I may not even use this one so I can't comment on how great it is. Glossybox usually sends great products, so I'm sure it's wonderful.
4. Missha Super Aqua Cell Renew Snail Hydro Gel Mask (full size $6)
This innovative hydro gel mask is an Asian beauty secret. It moisturizes, soothes, regenerates your skin, and is known to reverse skin damage as well as have natural healing powers when applied. Word on the street is it has a huge celebrity following! This face mask is definitely interesting. I have used Asian face masks before but this one is definitely a deluxe version. The mask is a jelly texture and it conveniently comes in two pieces instead of one. I felt like my skin was nice and hydrated after.
5. Nail Rock Nail Wraps (full size $8)
Yen was a fan of these shiny cheetah nail wraps so I sent them over to her. :)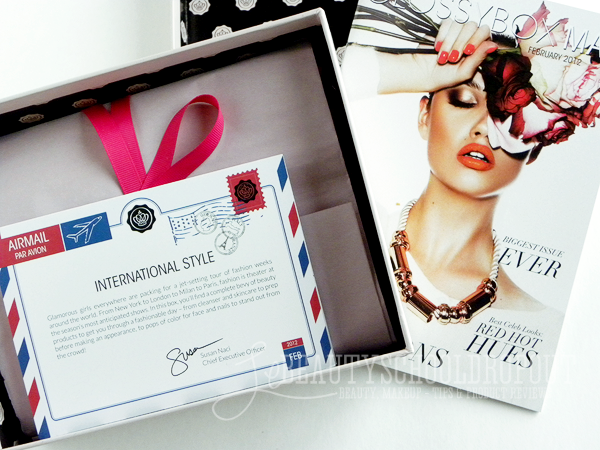 Hi friends! Yen here... I'm just butting into Jenny's post since we both got a box this month and usually we have one or two different items, so I thought I'd share what's in mine. If you're a Glossybox subscriber, what did you get?
Whether you're a new subscriber to Glossybox or not, you know that most of us literally just received our
January box collaboration with Man Repeller
just a week or so ago. Honestly, I was surprised I received my February box so soon! This month was all about international style due to fashion week. My card says
"from cleanser and skincare to prep before making an appearance, to pop of color for face"
I'm sorry, but
where
exactly are the pop of colors at?! My samples are pretty plain and the only pop of color I see is the crinkle paper! Hmmm... Well, here's what I got for this month:
Da Vinci Shimmer Powder in Earth
retail $15vfor 0.06oz // The card reads it's for under eyebrow or cheek highlighter. It's very sheer, sparkly... perfect for under the eyebrow. Since I received it in the color Earth, I would avoid using this as a cheek highlighter. I'm actually thinking of using this as an eyeshadow instead.
Missha Super Aqua Cell Renew Snail Hydro Gel Mask
retail $6 for 0.98oz // I have a secret addiction to Asian face sheet masks so I was extremely excited to receive a sheet mask! I would
never
pay $6 for one sheet, but after trying it, I now know why it's so expensive. Unlike my el cheapo Korean face mask sheets which never comes with a backing and you have to be extremely careful when unfolding the serum soaked mask, this was divided into two parts with a plastic backing. One snail slime for my upper face and another for my lower face. I let it sit well over the 40 minutes instructed and my face was incredibly smooth after. Definitely one my favorites of this month!
LiSi Sheer Sparkle or Color Glaze lip gloss in Battery Park
retail $7 for 0.31oz // I'm not a lipgloss girl. Not too sticky and I like that it's sheer.
Nail Rock Nail wraps in leopard
retail $8 // I do love nail stickers especially for a quick mani, but I think I like Jenny's print so much more! Lucky me, I got a best girlfriend because she ended up sending it to me instead :) Review to come at a later date
Bvlgari Eau Parfumée au thé blanc Soap
retail $30 for 5.3oz // Thanks Glossybox for a free designer brand hotel soap. I did use mine the other night and it has a nice clean, slightly floral scent and I love that even after I shower, the scent still lingered. Honestly, I would most likely never purchase the full size, but it was fun to try anyways.