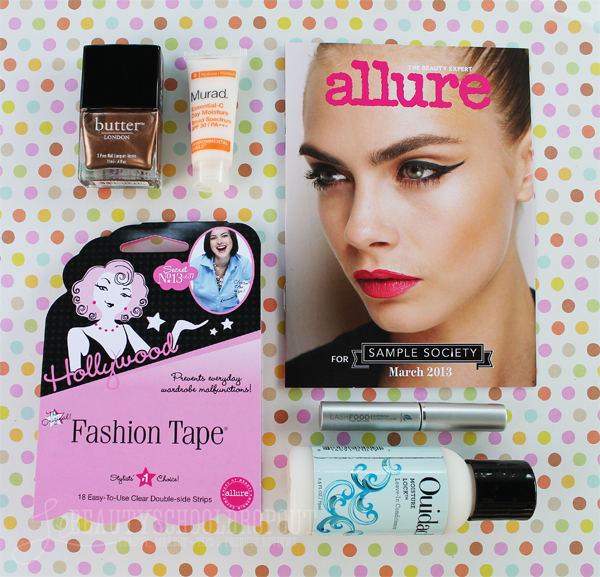 Hello everyone,
This month's Sample Society included a bunch of goodies from hair care to eyebrow conditioner. Granted, I didn't use all of the stuff, I was still happy to receive a full sized nail polish and a high quality eyebrow conditioner. Let's take a look at what is inside.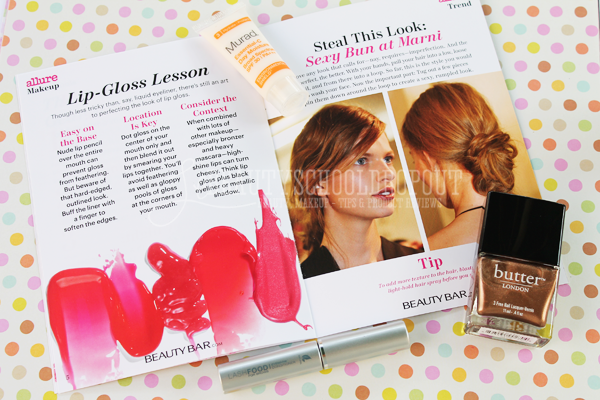 1.
Ouidad Moisture Lock Leave-In Conditioner (full size $23)
- Awesome! A hair product I can really use. This was a nice sample with enough to last me at least a few weeks. I use a nickel size in my hair after I shower and let it air dry. It leaves my hair soft and moisturized. It's not greasy or heavy at all. However, because I have such unruly dry Mufasa hair, I still prefer my Nume hair oil over this one.
2.
Hollywood Fashion Tape (full size $9.55)
- Ok, I have to admit I was a little bit sad when I got this in my box. I don't really need fashion tape and would much prefer something else. But who knows, maybe someday this will come in handy. For now I will toss it in my box of beauty goodies. Oh yeah, this tape is good to keep your bra straps from showing or taping your low cut shirt to keep things classy.
3.
butter LONDON 3 Free Nail Lacquer in The Old Bill (full size $15)
- Yay! Who doesn't love getting a full size luxury nail polish? This color doesn't suit my tan skin, but maybe it will suit one of our readers? (hint hint future giveaway alert.)
4.
Murad Essential-C Day Moisture SPF 30 (full size $60)
- Holy moly! The full size version of this product is sixty dollars? Wowzers. Ok, here is another product that I was excited to try. Having dry skin I pretty much go through lotions like water. I use this face cream in the day and it's really nice because it's a one stop shop. Lotion? Check. Vitamin C? Check. SPF? Check. It's really non greasy which is nice because nothing is worse than trying to have an adult conversation and looking like you're about to cry because your moisturizer is melting and stinging your eyes. Surprisingly, I'm pretty happy with this one. (We'll talk about my previous Murad experiences later.)
5.
LashFood Nano-Peptide Natural Eyebrow Conditioner (full size $90)
- If someone would've told me ten years ago that eyebrow conditioners could be sold for ninety bucks each, you bet I would've done all of my Chemistry homework. Sorry mom. Anyways, I used this one once because I already have bushy eyebrows. Basically, its a clear serum that comes on a small brush tip and you can just brush it over the places where you want your brows to grow. It tingles a little and in 4-8 weeks you can expect Lily Collin's inspired brows.
Well, thats it folks! I really hope you enjoyed reading this post. As always, thank you SO MUCH for stopping by and supporting our beauty rambles. It really does mean the world to us. :)