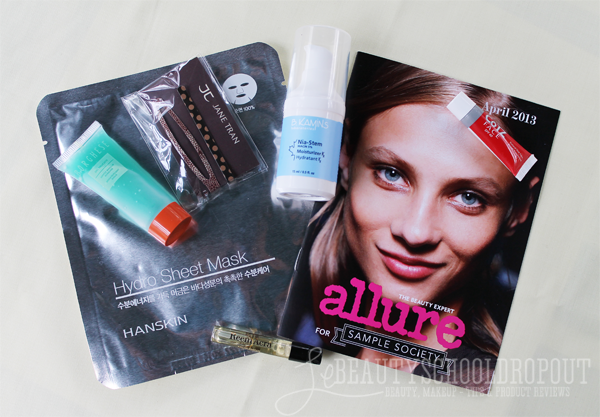 Hello everyone,
Today I will be reviewing Sample Society's April box. I have to say this box was underwhelming for me. Let's take a look at what was inside...
1.
Borghese Gel Delicato Makeup Remover (full size $30.50)
- Ok, I have to be honest I really hated this makeup remover. It took me at least five cotton pads to get most of my makeup off, and even then I had to use Koh Gen Do to finish the job. The worst part of it all was getting the gel into my eye. It was so nasty!!
2.
Hanskin Hydro Sheet Mask (full size $18)
- I was really excited to receive a face mask in this box. This one was a normal cotton sheet that you put over your face for 15-20 minutes. The ingredients consist of brown algae (similar to anti-aging ingredients that La Mer uses) and hyaluronic acid amongst a few other simple ingredients. After using it my skin looked a bit tighter the next day. This mask comes out to three dollars for one piece which is reasonable. I would repurchase it!
3.
B. Kamins Nia-Stem Moisturizer Kx (full size $125)
- This daily moisturizer with niacin, plantstem cells, and our exclusive Bio-Maple Compound is designed to improve skin tone and texture. This anti-aging formula increases cell life expectancy and promotes tissue regeneration to allow for a brighter complexion. This formula is designed to fight signs of aging while leaving the skin with a silky soft finish. So lately my skin has been acting up so I've decided to stick with my Koh Gen Do moisturizer for now. I will be back to review this later. :)
4.
Reem Acra Eau De Parfum (full size $90)
- This designer perfume is a sensuous floral-amber blend. It didn't smell that special to me and I would probably mistake it for many other perfumes out there.
5.
Jane Tran Hair Accessory Sampler (full size $12)
- Ok, these are cute but I wouldn't pay that much for bobby pins and hair clips. It would have been nicer if they had sent us a matching set as well.
6.
Cotz Face Natural Skin Spf 40 (full size $20)
- This mineral sunscreen comes out in a whiplike tinted moisturizer formula. It comes out as dark brown but blended to where I couldn't even tell I was wearing it. It tanned my skin slightly but it still looked very natural.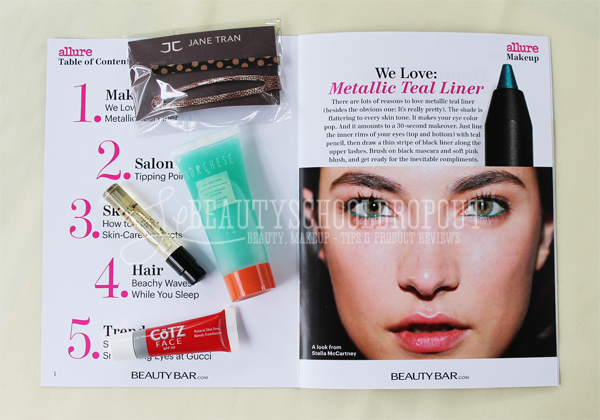 Overall, this box was ok. I liked the mask and the moisturizer but the other products were a miss for me. With all the great beauty items out there do we really need more perfume samples? Let's hope the next box is better. Have any of you tried these products? If so, what did you think of them? Thank you again so much for reading or following us! <3