Hello everyone!
Today I will be sharing with you Tarte's Aqualillies collection. Ever since I saw this summery new collection come out I knew I had to at least get a few pieces. I absolutely love the fresh bright colors combined with the semi vintage feel of the items. Also, I love how Tarte always makes things so easy to replicate with their easy to follow step by step makeup application cards. The first item I got was the
Aqualillies for tarte Amazonian clay waterproof eye and cheek palette $38
. I LOVE this palette. It comes with six eyeshadows, blush, bronzer, and a highlighter. It's the wholeee enchilada.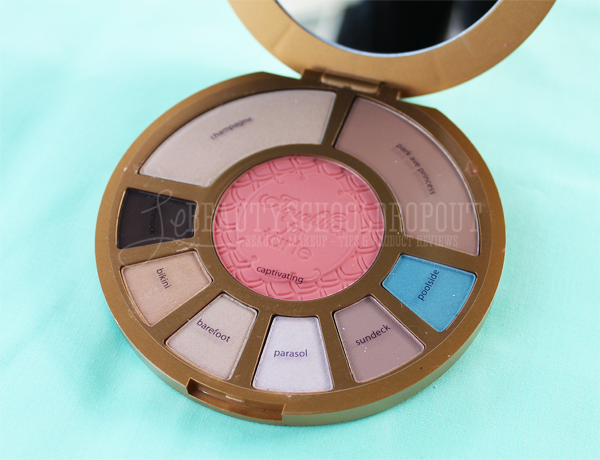 The colors of the palette are even prettier on the skin. They are universally flattering and complement each other really well. From top to bottom the colors are swatched in a clockwise direction: Champagne (highlighter), Park Avenue Princess (bronzer), Captivating (blush), Poolside, Sundeck, Parasol, Barefoot, Bikini, and Hammock.
Next, if you spend over $75, you get an adorable free makeup pouch. I plan on stashing my preciouses in this pouch along with my other Tarte goodies.
Conveniently, the eyeshadow palette comes with a makeup direction card that made it easy for me to recreate the entire look in less than 15 minutes!
I also got the lipstick in
timeless $26
, which is a bright coral color. It is really bright but really pulls the entire look together.
Overall, I absolutely loved this collection. When I recreated my look I substituted my own liquid liner, mascara, and powder. I will definitely be using the palette a lot and the lipstick on occasion. Have any of you tried any of the new Tarte items? If so, what did you think? Well, that's it and I really hope you enjoyed this post. If you like our page, please leave a comment or follow us on bloglovin. We love each and every one of our readers! <3