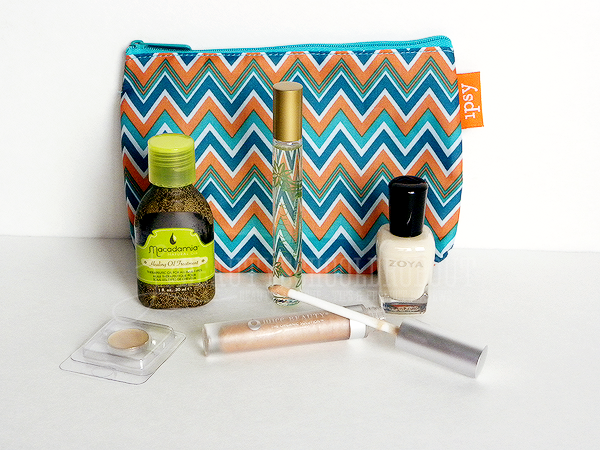 April's ipsy bag
was a huge miss for me. But for May? I am surprised at all the items I received and on top of that, every item is FULL SIZE. If you guys don't know,
Ipsy
is a $10 subscription box that you receive monthly and this months box is worth $53.56! Honestly, you cannot beat this. I can't say that their bags in every month will be as awesome as this one, but if you want to try it out... just sign up with
this link
.
Macadamia Hair Oil
1oz retail $13.50 // I have been wanting to try this for the longest time... I think it has popped up in Birchbox sometime last year, but I always got pretty unlucky with them. So, when I opened my bag, I was screaming with joy! I used it the same night I received the bag and I have to say, my hair is incredibly soft, shiny but not in a greasy way. The only thing I dislike is the scent. You would think it would have a sweet nutty scent, but it just smells like overpowering men cologne... not even the smelly good kind.
Zoya Polish in Jacqueline ZP654
retail $8.00 // Their website describes this polish as
"perfect magnolia nude cream. This light creamy beige has slight warm undertones and a glossy creme finish. Originally created as a custom runway shade for fashion designer Peter Som."
In my opinion? This color reminds me of a cup of coffee after you put a sh*t ton of cream in it. Or almond milk. The color itself is incredibly boring... very plain vanilla. It's very streaky when applying and I had to put 4 coats on which is way too much. After wearing it for a day, the color isn't
that
bad, but I think it would look amazing against girls with a tan/darker skin tone.
Pacifica Roll-on Perfume in Tahitian Gardenia
retail $12.00// I personally love Pacifica items because they do not do animal testing, animal ingredients, FD&C color, phthalates, parabens, sulfates, propylene glycol, benzene, GMOs, mineral oil, petroleum, peanut oil, triclosan, and other ingredients you do not want on your skin. I'm not a huge huge fan of gardenia mainly because the scent can be pretty overpowering, but I just put on a little bit and the scent is very clean, floraly with citrus tones. It's very delicate and so far I am loving it!
Yaby Concealer Refills in cc008 Buff
retail $5.06 // Can you believe this itty bitty thing is actually full size? I tested this product out and the color is a little light for my skin tone and it was a little cakey for my eye area.
Juice Beauty Reflecting Gloss in Champagne
retail $15.00 // Another product that I have wanting to try. I actually do not like lip gloss or wear lip gloss, BUT this one is a huge hit for me. The color is light and will go great over any color lipstick. Also, it's not super sticky, which is a huge plus. On top of all of that, it's also organic.