Hello everyone!
May's Sample Society Box was an off one for me. I had a couple of items that were too similar to the beauty products I already own, but still a high quality good value box nonetheless. Here's what was in it:
1.
Dr. Brandt Flexitone BB Cream SPF 30 (full size $39)
- Like all BB creams, they provide a beautiful flawless finish. This one is no different. It covered my pores and redness, but still showed the small bumps on my skin. Unfortunately, it was too dark for me so I couldn't even wear it out. I didn't want people to think I got ready in the dark, so I took it off after an hour. This could be a good bb cream for anyone who is NC30 or higher. Also, be sure to blend quickly otherwise it could get streaky.
2.
YU-BE Moisturizing Skin Cream (full size $24.85)
- This texture of this cream reminded me of Neutrogena Norweigian Formula Hand Cream. Also, it smells just like tiger balm! I have to keep trying this cream to see more results, but the sample was ever so tiny.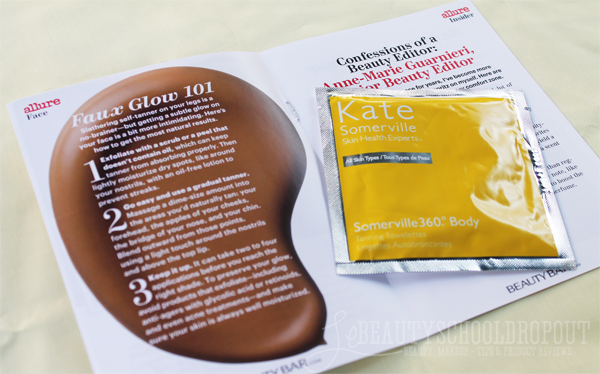 3.
Kate Somerville Somerville360 Tanning Towelettes (full size $48)
- Because I am already tan I didn't use this one. I'll have to pass it off to one of my paler friends. The description on it says "the easiest way to get glowing. These convenient self-tanning towelettes make for quick, even application- no streaking."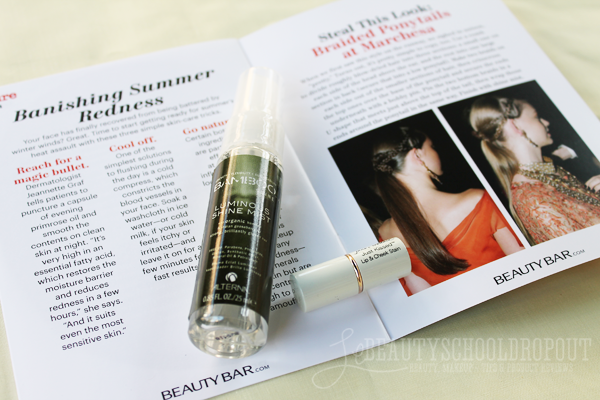 4.
Alterna Bamboo Shine Luminous Shine Mist (full size $24)
- I actually received this spray in one of my previous beauty boxes. I absolutely LOVE this spray. I use it after I flat iron my hair and it gives it a beautiful and sleek finish. I was actually happy to receive another one of these.
5.
Jane Iredale Forever Pink Just Kissed Lip & Cheek Stain (full size $25)
- It seems like color adapting lipsticks are all over the place these days. This one is really similar to my Pixi magic tint. On me it turns into a bright hot pink.
Overall, this was an ok box for me. I generally love Sample Society boxes but the items in this one just weren't suited to my skin tone or interests. Oh well, hopefully the next box will be better! Thanks for reading! :)