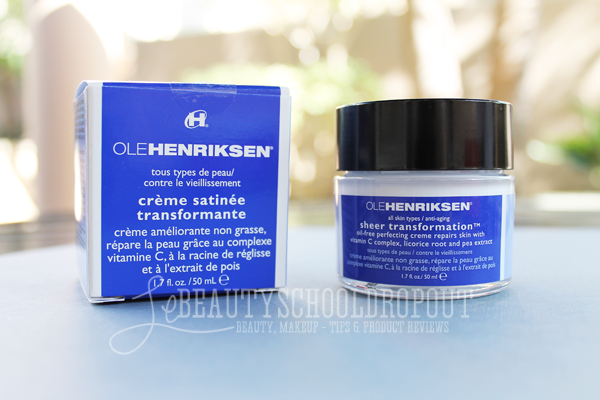 Hello everyone,
Today I will be reviewing
Ole Henrikson's Sheer Transformation ($45)
face cream. I'm a huge fan of Ole Henrikson products because they always makes my skin look so good and their products are in my price range. After using this for a few days I can instantly see that my skin looks brighter and more even. A little bit goes a long way and this jar should last me at least a good month or two. The product is lightweight and sheer and blends into my skin easily. Although it doesn't do much to get rid of small whiteheads, this is a product that I would repurchase over and over again. Here's the product description:
So sheer in texture, this luxurious oil-free cream feels light and silky as it penetrates the skin and helps fade discolorations such as freckles, age spots and sun damage without the use of chemicals. Instantly nourishes and retexturizes the skin, smoothes facial lines and provides intense free radical protection to prevent further damage.
If I had to pick five favorite mid-range face creams, this would definitely be one of them. Have any of you tried Ole Henrikson products? If so, what did you think of them?