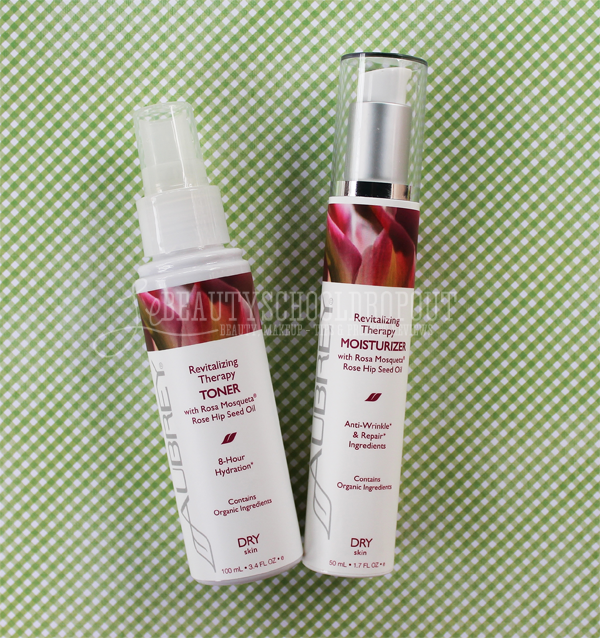 Hello everyone!
So recently I've gone back to exploring all kinds of organic products. I also made a new discovery which is Mother's Market, an organic market/restaurant that also carries an amazing selection of natural skin care items. Basically, heaven! After browsing through the many different skin care lines, I decided to give
Aubrey
skin care a try. I have really dry and sensitive skin which constantly leaves me searching for products with simple yet effective ingredients. I chose the
Revitalizing Therapy Toner ($12)
and the
Revitalizing Therapy Moisturizer ($18)
for dry skin.
I've been using these both for two weeks now and my skin looks great! It's not irritated and it's not dry either. I've also been pairing it with my Ole Henrikson Vitamin C serum in the meantime and it seems to work well for my skin. It's consistency is just right, not too heavy and not too liquid. Two to three pumps is all I need to cover my face, neck, and chest. The moisturizer has vitamin E (great for skin!) and organic Rosa Mosqueta Oil a natural antioxidant. The product is completely organic, and for 18 dollars I really think it's a steal.
The toner is great as well. I spray some on a cotton pad and use it to remove the extra dirt and grime on my face and to level out the ph in my skin. Toner is important because it balances your ph level so that all nutrients can be equally absorbed into your skin.
If you're interested in Aubrey products, I suggest going to your nearest Mother's Market to test out some of their products. The store has testers for pretty much all of their beauty items. Or, you can go to their website and order them online
here
. Do any of you use organic products? If so, which ones are your favorites?