I received a perk from Klout awhile back to try out
Freeman Eclos
products which is mostly targeted towards women who wants to fight wrinkles. I admit, I really don't have any wrinkles at the ripe age of 29.5, but it's never too early to start right?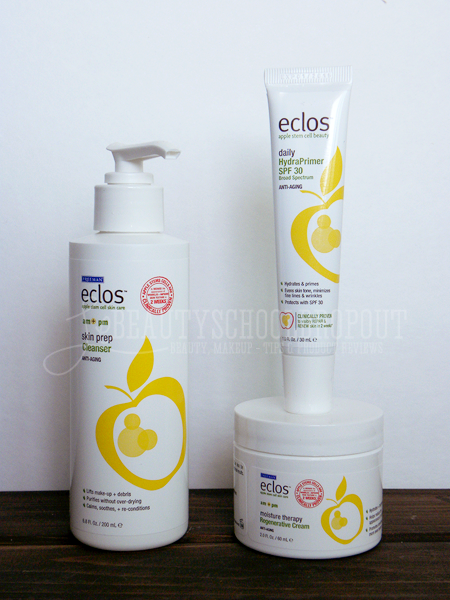 What is Eclos?
"High-tech skin care that stems from nature. Eclos™ contains Apple Stem Cell Technology extracted from a rare Swiss Apple clinically proven to help reduce wrinkles and improve skin texture in 2 weeks. They combine this technology with a potent antioxidant and plant extract complex to help hydrate, firm, smooth, and clarify.
Skin Prep Cleanser // retail $14.99
I have a couple face washes in my shower that I like to rotate depending on how my skin feels. This one is formulated with chamomile and cucumber to soothe, revitalize and hydrate skin which is nice since my face can get pretty dry even during the summer months. I like that it leaves my face pretty squeaky clean without leaving any film behind.
Moisture Therapy Regenerative Cream // retail $24.99
At first, I was pretty excited to try out this product because I love moisturizers that I can use day and night. The first night I used it, my face felt sticky after a hour of applying it. I have dogs... I don't want to go to bed with a hairy face! When I woke up the next morning, my face felt smooth and replenished.
Daily HydraPrimer SPF 30 // retail $15.99
Whhhhhhhy does this product come out brown?! I read the package looking to see if it was one of those tinted primers, but it's not. It has iron oxides which provides a light tint; broad spectrum SPF provides UV defense. Truthfully, I am not a fan of this product. It goes on pretty smooth, but my face feels dry and rough. It was recommended to apply under your foundation, but I skip that step and it rubs off pretty easily.