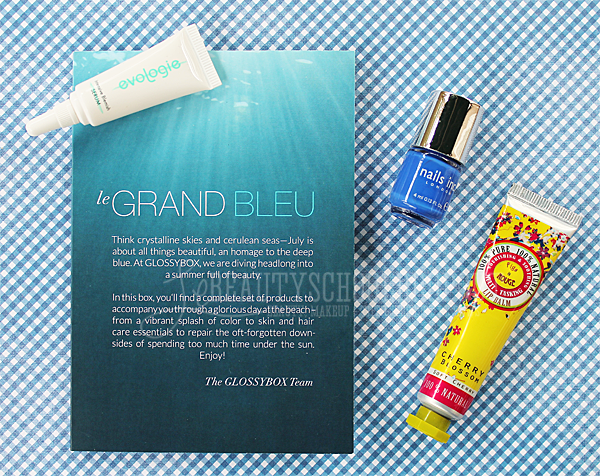 Hi everyone!
So July's Glossybox came in the mail and I have some mixed feelings on it. There are three products that I'm really happy with, and three that I'm not overly thrilled about. Let's look inside the box...
1.
Brazilian Blowout Acai Deep Conditioning Masque (full size $40)
- A creamy, rich, intense conditioning masque drenches the hair once a week by coating each hair strand with exclusive, nutritive proteins to eliminate frizz, promote shine, and guarantee the longest-lasting smoothing result. Yay! I've been hoping to be sent a hair mask for a long time now and was so excited to get this in my box. I left it in my hair for about 7 minutes in the shower and my hair was really soft and untangled after. It also smells like acai berries! The sample is pretty generous and I'm definitely going to get at least two more uses out of it.
2.
Bvlgari Eau Parfumee au the Blanc Shampoo & Shower Gel (full size $42)
- Both men and women can wear this delicate, soothing white tea scent with white pepper accents, day or evening. White Tea, the principal ingredient, has been used in China as an elixir of youth because of its antioxidant and revitalizing properties. Cultivated only a few times per year, this rare essence imparts an overall sense of well being. Ok, I have to admit I was a bit skeptical to try the Bvlgari shower gel because I have super dry skin so I'm really picky about what I use in the shower. However, I did give it a try and it's pretty good! My skin wasn't dried out and it has a really lovely flowery scent to it. As a shampoo it didn't get my hair clean. I even lathered it in twice but no luck there.
3.
Evologie Intensive Blemish Serum (full size $35)
-Doctor developed, patent pending, formulation that deeply penetrates the skin to quickly clear blemishes at the source. Ah! Another product I was excited to get. For the most part I have pretty clear skin, but I do get these monster pimples here and there (probably from all the chocolate I eat.) The texture of the product is a sheer creamy liquid and the scent is minty fresh. After using it morning and night for two days it shrunk my monster pimple but didn't get rid of it. I'm still quite happy with the product.
4.
Figs & Rouge Cherry Blossom Tinted Lip Balm ($9)
- The packaging of this lip balm is so adorable and I love how Glossybox actually sent a full size product. The balm itself is really nice, not too sticky and it smells great. However, the color just didn't flatter me so I don't know how often I'll be wearing it.
5.
Nails Inc. Baker Street Nail Polish (full size 9.50)
- As much as getting nail polish is great, I really don't know what I'm going to do with a cobalt blue nail polish. Pass..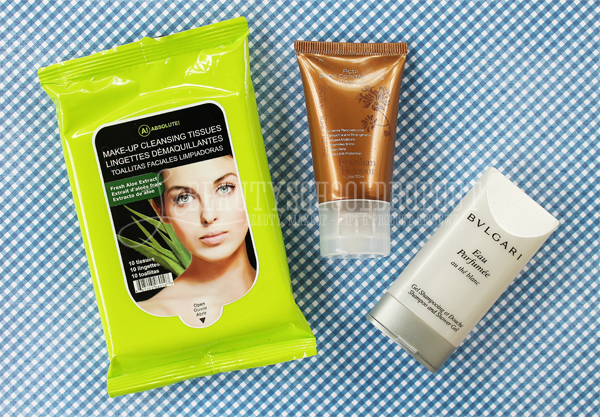 6.
Nicka K New York ABSOLUTE! Make-up Cleansing Tissues (full size 6.99)
- Made of delicate spun lace, Absolute! Make-up Cleansing Tissues are gentle enough for sensitive complexions, but strong enough to effectively remove lipstick, eyeliner, eyeshadow and even waterproof mascara. I can always use some extra make-up wipes so i was happy to receive this in my box. Right now, it's going into my surplus box until I need it.
Overall I was pretty happy with my box and I think the hair mask is probably my favorite item out of the entire box. Do any of you subscribe to Glossybox? If so, what did you think of this month's items?