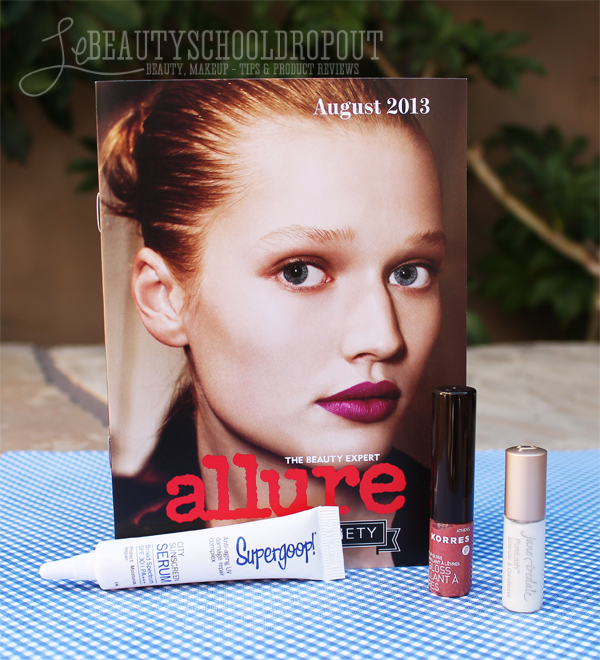 1.
Korres Cherry Lip Gloss in 33 Natural (full size $17)
- Yayy! I was so excited to get a Korres product in my box because I love natural beauty products. The lip gloss smells like cherry Starburst to me and the color is a smidge darker than my natural lip color, making it a very good every day sheer lip gloss. The texture is a bit sticky. Overall, I really like this lip gloss and the next time I go to Sephora I'm going to try out a few more colors.
2.
Jane Iredale PureLash Lash Extender & Conditioner (full size $16.50)
- Ok, I can always use a lash booster. This one is pretty good it gave my lashes more volume and kept my mascara from falling out. I'm not sure if I would specifically go out of my way to buy it because I am so happy with my Great Lash mascara, but it's pretty good!
3.
Dr. T's Supergoop! City Sunscreen Serum SPF 30 (full size $42)
- Hmmm, I feel half half on this product. I love how this sunscreen contains antioxidants and is good for your skin. I like how lightweight it is as well. The only thing that bothers me is that it melts into my eyes a few hours later which causes them to sting. Because I normally don't wear makeup I need a sunscreen that will stay completely matte on my face for hours. For that reason I probably will not purchase this product.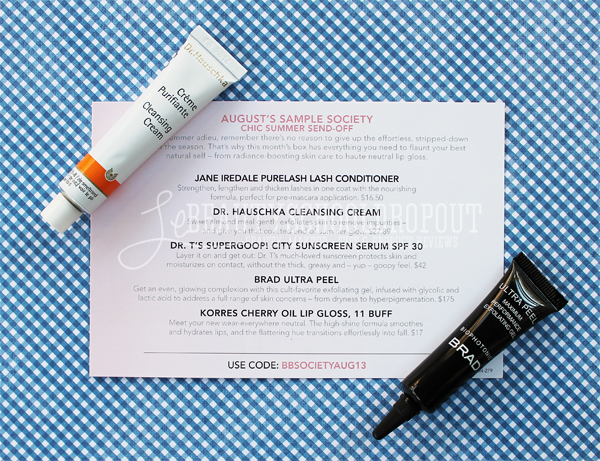 4.
Dr. Hauschka Cleansing Cream (full size $26)
- Oooooo! A Dr. Hauschka product! I've been seeing this line in Germany for so many years but I haven't really picked up much from his line. This cleansing cream is super gentle and good for sensitive skin. It comes out in a paste and you're supposed to roll it onto your skin and then wash off. It smells like a mixture of apples and roses, very soft and pleasant. I would definitely buy this product again.
5.
Brad Ultra Peel (full size $175)
- An exfoliating gel without exfoliating beads? Whaaaaat? This was the most interesting product I received in my box this month. It's a clear gel that exfoliates your skin without having to physically scrub it. After using it my skin looked smoother and cleaner than before. I have to admit the price tag is a bit too scary for me, but for those who can afford it it's quite good.
This was an awesome month's box from Sample Society and I was really pleased with everything inside. I can't wait for next month's box! Thank you for reading and I really hope you enjoyed this post. If you'd like to sign up to Sample Society, click
HERE
to receive 20% off your first order of shopping using the code
STAT4718
. Enjoy! <3