Hello everyone!
How are you all doing? Today we're doing a post on our current fall and winter favorites. Here it goes!
1.Mini Mango Body Butter ($3) 2. Benefit they're real! mascara ($23) 3. Minus 417 Hand Moisturizer ($14) 4. Redken Diamond Oil Shampoo ($14)
I stumbled across
this super cute body butter
from The Body Shop at Ulta. It smells just like fresh mangos and it's super portable too. Of all the mascaras I've been trying lately, this
Benefit mascara
gives me big huge lashes! During winter my hands get super dry and this
awesome hand cream
keeps my hands moisturized. The best part is that it dries super fast. I couldn't resist the name of this
shampoo and conditioner
from Redken. This duo leaves my hair super shiny and soft. It also smells
AMAZING
.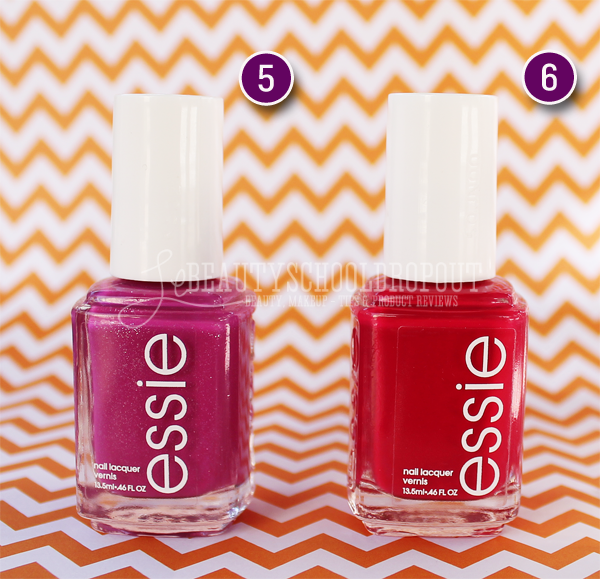 5. The Girls Are Out by Essie ($8.50) 6. Plumberry by Essie ($8.50)
Even though it is winter time, I am still a fan of keeping my nail polish colors girly and feminine. I love
this gorgeous fuchsia
nail polish by Essie. It looks really flattering on medium skin and could work for all seasons. Next, this nail polish reminds me of
cranberries on the mistletoe
. It's a beautiful holiday color.
7. Tarte Frisky Clay Blush ($26) 8. Tarte Lipsurgence in Lust ($26)
Winter weather means goodbye sunshine and hello snow and rain. I picked the next two items to create that pretty red flush on the cheeks that happens when we're out in the cold. Tarte's
Frisky
and
Lust LipSurgence
do just the trick.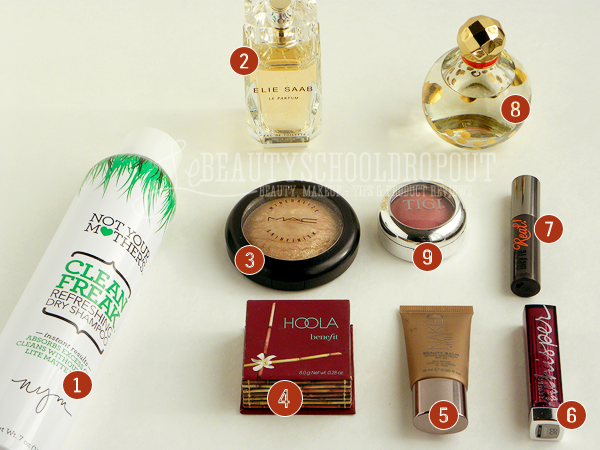 Yen here! My summer faves have officially rolled into my fall & winter faves and the only product I'm slowly getting into is a darker berry lip color. Or at least trying to find my perfect winter lip color. Urban Decay's Naked Skin Beauty Balm has been one of my top favorites as of late... It even trumps my favorite BB cream from Maybelline, which says a lot since I was pretty gun-ho about that product.
1.
NYM Clean Freak Dry Shampoo
| retail $6
2.
Elie Saab 'Le Parfum'
| retail $78
3.
MAC Mineralize Skinfinish in Soft & Gentle
retail $30
4.
Benefit Hoola Bronzer
| retail $28
5.
Urban Decay Naked Skin Beauty Balm
| retail $38
6.
Maybelline Color Whisper in Berry Ready
retail $7.49
7.
Benefit They're Real Mascara Deluxe Mini
| retail $10
8.
Kate Spade Twirl Perfume
retail $31.50
9.
TIGI Glow Blush in Lovely
retail $22