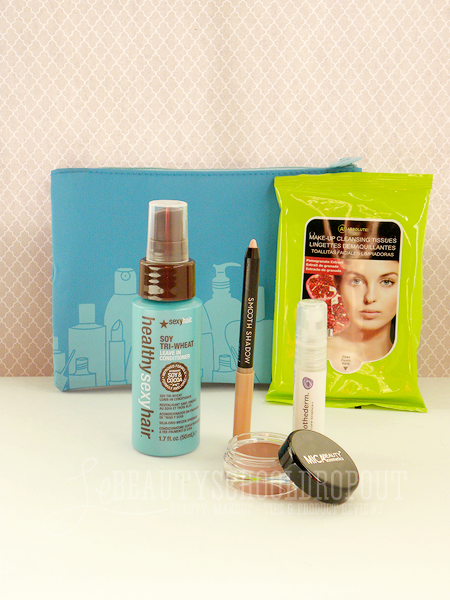 2013 ended with some pretty good Ipsy bags in my opinion, but for the start of 2014, this bag was a bit boring. The bag itself is cute, but too bad it reeked of mothballs. Unless it was just my nose. Anyways, let's get on with what I received!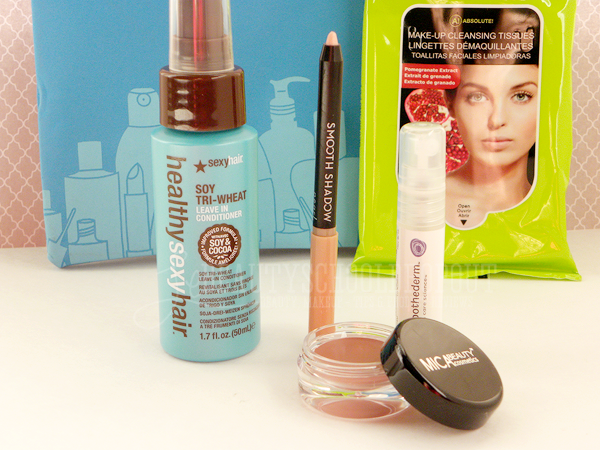 Elizabeth Mott Smooth Shadow Creamy Eye Pencil in Pearl
retail $14.99 // I love the color and all the different uses for this eye pencil. It's great for under your eyebrow arch and for your waterline. It glides on smooth like butter and doesn't smudge.
Mica Beauty Tinted Lip Balm in #5 Natural
retail $30 // I wasn't too excited for this product since it looked boring in the pot, but I actually quite like it! It's a really soft nude and it goes on smooth and helps moisturize my dry lips. I've also noticed that it smells like buttered onions.
Healthy Sexy Hair Soy Tri-Wheat Leave In Conditioner
retail $17.95 //
The powerful combination of Soy and Cocoa work synergistically to perfectly care for your hair! A conditioner that is both a nourishing moisturizer and mild protein reconstructor and safe to use on color-treated hair. This truly amazing conditioner reconstructs, moisturizes and combats environmental stress on all types of hair. Soy and Tri-Wheat Proteins penetrate the hair, while moisturizers detangle for softness. Cocoa Replenishes hair's moisture, has intensive repairing qualities, provides deep conditioning and strengthening properties and promotes soft and manageable hair.
Absolute! Make-Up Cleansing Tissues in Pomegranate
retail $2.49 // I seriously think my smell is off because I think these smell horrible and the scent lingers. They're just your typical face wipes.
Apothederm Bright Skin Serum
retail $67.50 //
Our specialized formula refines, brightens and hydrates for a more even complexion. Our SmartPeptide™ technology specifically targets impurities to refine blotchy, discolorations and imperfections. Your skin will look and feel rejuvenated and radiant.