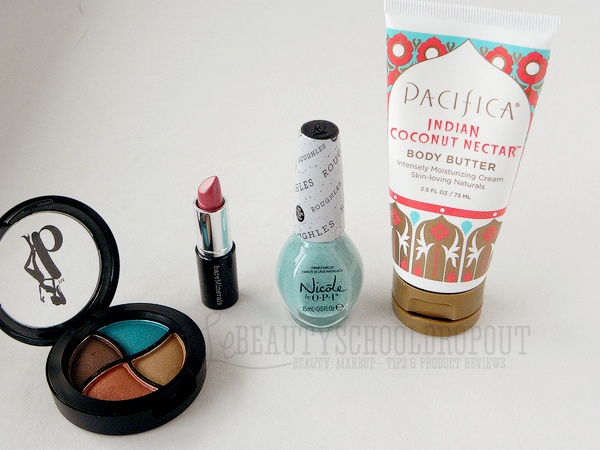 Be a Bombshell Bora Bora Eyeshadow Quad
retail $16 //
The Bora Bora Eyeshadow Quad contains a highly pigmented long lasting formula for all day wear. To use as an eyeliner, wet the tip of your brush and dip end into the shadow and apply on lash line. For base colors, blend shadow from lash line to brow bone with a wide shadow brush using gentle upward strokes. For accent colors, blend shade in the outer crease of your eye gently working inward. Gently blend base and accent colors together using light, feathery strokes. For highlighting, gently brush under brow bone. Colors: Starlet, Bora Bora, Risky Business, Rock Bottom
Bare Minerals Marvelous Moxie Lipstick in Get Ready
retail $18 //
Creamy, super-saturated, ultra-pigmented color glides on like butter for full coverage in a rich satin finish.
Nicole by OPI - On What Grounds?
retail $6-9 //
Roughles (pronounced "Ruffles") go on like regular nail lacquer, but dry to a speckled, textured finish–no top coat needed!
Pacifica Perfume Body Butter in Indian Coconut Nectar
retail $7 //
Our body butter helps fight signs of aging while adding deep moisture and protection. Made with nature's best moisturizers - shea butter, almond oil and safflower oil - Pacifica's paraben-free Body Butter is a skin must-have. Now available in tubes in our best-selling fragrances, making them easy to take with you anywhere. A warm blend of sultry fresh coconut, delicate creamy vanilla.